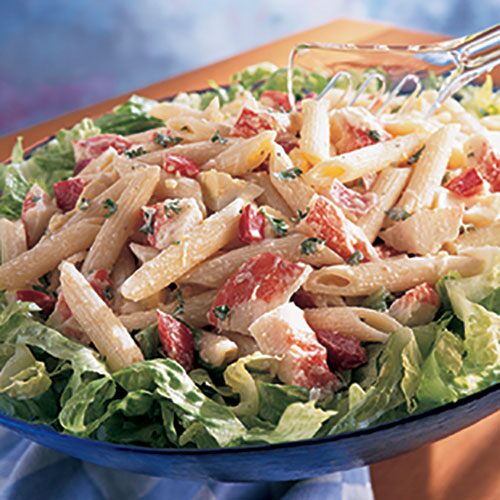 Number of Servings: 6
Brief Description
Tasty meal from Pampered Chef
Number of Servings:
Only quantities of ingredients are changed; recipe Directions below will not reflect those changes.
Ingredients:
10 ounces - (300 g) uncooked penne pasta
8 ounces - (250 g) imitation crabmeat, cut into 1-in. (2.5-cm) pieces
1/2 cups - (125 mL) diced red or green bell pepper
2 -  hard-cooked eggs, chopped
1/4 cups - (50 mL) chopped red onion
1 ounces - (30 g) fresh Parmesan cheese, grated (1/4 cup/50 mL packed)
2 tablespoons - (30 mL) snipped fresh parsley
1 cups - (250 mL) reduced-fat creamy Caesar salad dressing
6 cups - (1.5 L) thinly sliced romaine lettuce
Directions:
Cook pasta according to package directions. Drain and rinse under cold running water until cool. Combine pasta, crabmeat, bell pepper, eggs, onion, cheese and parsley in large mixing bowl. Pour salad dressing over pasta mixture; mix well. Cover; refrigerate 2-3 hours to allow flavors to blend.
To serve, place lettuce in bottom of Large Bamboo Square Bowl; top with pasta mixture.
Brief Description
Tasty meal from Pampered Chef
Category:
Source
https://www.pamperedchef.ca/recipe/Side+Dishes/Seafood+Caesar+Pasta+Salad/935602
Print Recipe