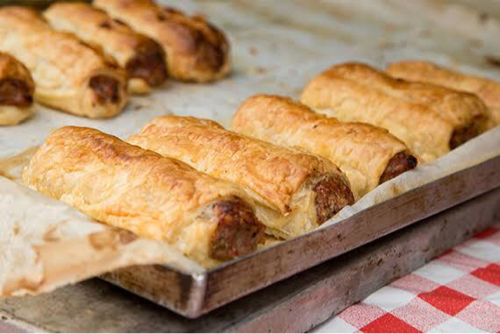 Prep Time: 10 min
Cook Time: 25 min
Number of Servings: 12
Number of Servings:
Only quantities of ingredients are changed; recipe Directions below will not reflect those changes.
Ingredients:
1/2 teaspoon - mixed herbs
- puff pastry
1 - egg yolk
1 tablespoon - water
2 - thick slices white bread
500 grams - sausage mince
500 grams - beef mince, cooked
1 - onion, chopped
- salt and pepper
Directions:
Remove crusts from bread, soak in cold water for 10 minutes, drain, pressing out surplus water.
Put the bread into a bowl with meat, onions, herbs, salt and pepper, mix well.
Roll into pastry, brush with combined egg yolk and water.
Bake 250c, please minutes, reduce heat to 190c and bake a further 15 minutes.