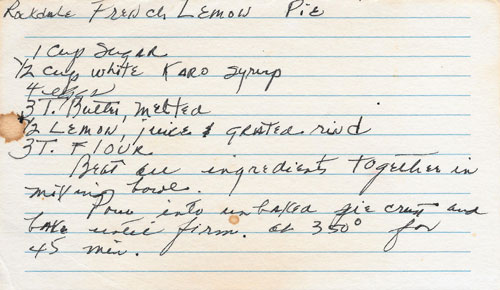 Prep Time: 15 min
Cook Time: 45 min
Number of Servings: 6
Brief Description
Quick and easy lemon pie.
Number of Servings:
Only quantities of ingredients are changed; recipe Directions below will not reflect those changes.
Ingredients:
1 cups - sugar
1/2 cups - white karo syrup
4 - eggs
3 tablespoons - butter, melted
1/2 - lemon, juiced and rind grated
3 tablespoons - flour
- unbaked pie crust
Directions:
Beat all ingredients together in mixing bowl.
Pour into unbaked pie crust and bake until firm at 350 degrees F for 45 minutes.