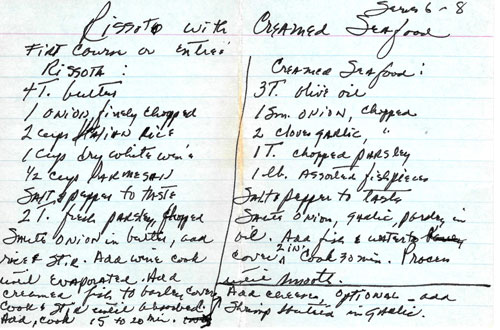 Prep Time: 25 min
Cook Time: 1 hour(s)
Number of Servings: 6
Brief Description
Seafood risotto.
Number of Servings:
Only quantities of ingredients are changed; recipe Directions below will not reflect those changes.
Ingredients:
Creamed Seafood
3 tablespoons - olive oil
1 - small onion, chopped
2 cloves - garlic, chopped
1 tablespoons - chopped parsley
1 pounds - assorted fish pieces
- salt and pepper, to taste
Risotto
4 tablespoons - butter
1 - onion, finely chopped
2 cups - Italian rice
1 cups - dry white wine
1/2 cups - Parmesan cheese
- salt and pepper, to taste
2 tablespoons - fresh parsley, chopped
- shrimp, sauteed in garlic, optional add-in
Directions:
For Creamed Seafood:
Saute onion, garlic and parsley in oil. Add fish and water to cover (about 2 inches) and cook for 30 minutes. Process until smooth.
For Risotto:
Saute onion in butter; add rice, and stir. Add wine and cook until evaporated. Add creamed fish to barely cover; cook and stir until absorbed.
Add remaining creamed fish and cook 15 to 20 minutes. Add cheese. (Optional - add sauteed shrimp).