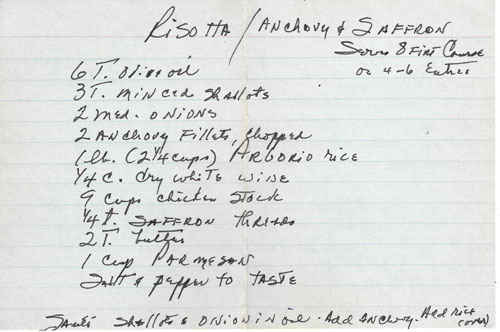 Prep Time: 20 min
Cook Time: 45 min
Number of Servings: 6
Brief Description
Risotto with anchovies and saffron seasoning.
Number of Servings:
Only quantities of ingredients are changed; recipe Directions below will not reflect those changes.
Ingredients:
6 tablespoons - olive oil
3 tablespoons - minced shallots
2 - medium onions, chopped
2 - anchovy fillets, chopped
1 pounds - (2-1/4 cups) Arborio rice
1/4 cups - dry white wine
9 cups - chicken stock
1/4 teaspoons - saffron threads
2 tablespoons - butter
1 cups - Parmesan
- salt and pepper, to taste
Directions:
Saute shallots and onion in oil. Add anchovy. Add rice and brown; stir in wine.
Add 1 cup of broth and saffron. Reduce heat, simmer.
Add remaining broth. Cook on low for 30 minutes.
Remove from heat, stir in butter and Parmesan. Serve on warm plates.
Brief Description
Risotto with anchovies and saffron seasoning.
Notes
Serves 4 to 6 as main entree, or 8 as first course.
Print Recipe