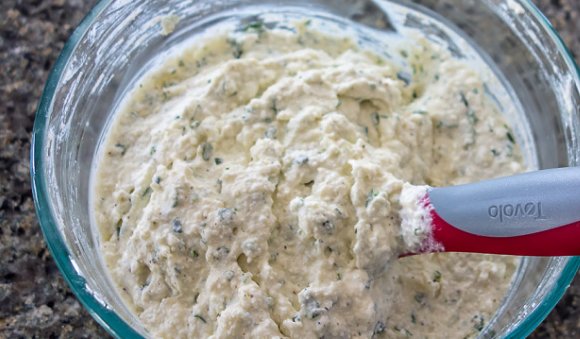 Prep Time: 20 min
Number of Servings: 1
Brief Description
Good for use in any Italian dish.
Number of Servings:
Only quantities of ingredients are changed; recipe Directions below will not reflect those changes.
Ingredients:
1 containers - Whole Milk Ricotta Cheese, 15-ounce
1 cups - Shredded Mozzarella Cheese
1/4 cups - Grated Parmesan Cheese, (can substitute Romano)
1 - Large Egg, beaten
1 teaspoons - Oregano
- Salt & Pepper, to taste
Directions:
Crack the egg into a large mixing bowl and gently beat it with a fork or whisk. Add the ricotta cheese, mozzarella and parmesan cheeses and stir to combine. Stir in oregano, salt and pepper.
Use the mixture immediately, or store in a tightly sealed container in the refrigerator for up to three days.
Brief Description
Good for use in any Italian dish.
Main Ingredient:
Ricotta Cheese
Notes
For a creamier filling, add 1 cup of fine-curd cottage cheese.
If storing your ricotta mixture, make sure your refrigerator is set at or below 41 degrees Fahrenheit to prevent spoilage and growth of pathogens.
Mixture may separate in the refrigerator, so you may need to stir it lightly
Print Recipe