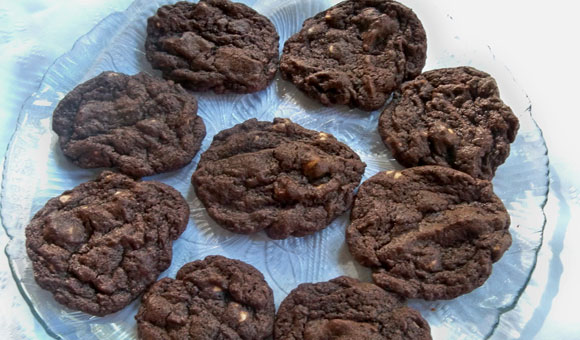 Prep Time: 15 min
Cook Time: 9 min
Number of Servings: 36
Brief Description
Chocolate cookies with peanut butter chips.
Number of Servings:
Only quantities of ingredients are changed; recipe Directions below will not reflect those changes.
Ingredients:
1 1/4 cups - Butter
2 cups - Sugar
2 whole - Eggs
2 teaspoons - Vanilla
2 cups - Flour
3/4 cups - Cocoa
1 teaspoons - Baking Soda
1/2 teaspoons - Salt
2 cups - Peanut Butter Chips
Directions:
Cream butter and sugar together. Add eggs and vanilla; beat well. Combine flour, cocoa, baking soda, and salt; gradually blend into creamed mixture. Stir in chips. Drop by teaspoonfuls onto ungreased cookie sheet. Bake at 350° for 8-9 minutes. Do not over bake. Cool until set, about 1 minute. Remove from cookie sheet. Cool completely on wire rack. Makes 4 & 1/2 dozen cookies.
Brief Description
Chocolate cookies with peanut butter chips.
Print Recipe