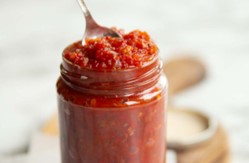 Prep Time: 30 min
Cook Time: 45 min
Number of Servings: 6
Brief Description
Tomato chutney ketchup.
Number of Servings:
Only quantities of ingredients are changed; recipe Directions below will not reflect those changes.
Ingredients:
6 - ripe tomatoes
1 - small handful of pickling salt
1 cups - sugar
- vinegar
1 - small bag of pickling spices
Directions:
Blanch and peel tomatoes and seed them.
Place in a Dutch oven or large pot. Add salt, sugar and mix. Cover with vinegar to level of tomatoes. Add spice bag. Simmer until thickened stirring occasionally to prevent scorching.
Can be put into small jars and refrigerated or sealed in small mason jars for future use.