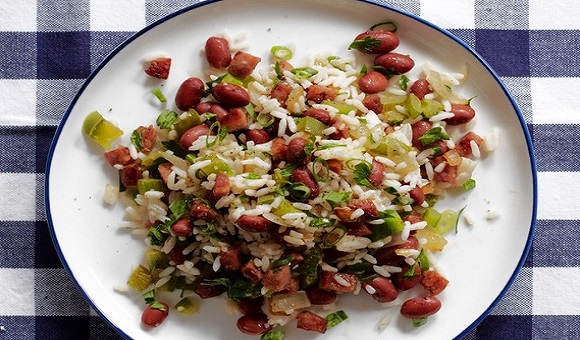 Prep Time: 1 hour(s) 30 min
Number of Servings: 10
Brief Description
Spicy salad best served cold
Number of Servings:
Only quantities of ingredients are changed; recipe Directions below will not reflect those changes.
Ingredients:
2 pounds - Fresh Red Beans
1 - Smoked Ham Hock
2 - White Onions, halved
3 leaves - Bay Leaf
3 sprigs - Thyme
3 - Dried Red Chilies
2 teaspoons - Kosher Salt, plus more to taste
6 strips - Bacon
2 stalks - Celery, chopped
1 - Green Pepper, chopped
1 - Vidalia Onion, chopped
4 cloves - Garlic, chopped
8 tablespoons - Olive Oil
1 pounds - Andouille Sausage, chopped
2 cups - White Rice
1 1/2 tablespoons - Sherry Vinegar
1 teaspoons - Dijon Mustard
- Black Pepper, freshly ground
1 bunches - Scallions, whites & 1 inch of greens, thinly sliced
1/4 cups - Italian Parsley, finely chopped
Directions:
1. Place beans in a colander. Pick out and discard any shriveled or broken beans, and rinse with cold water.
2. Add beans, ham, white onions, bay leaves, thyme, chilies and kosher salt to a large pot and cover with water. Bring to a boil over high heat, skimming off any foam that rises to the surface. Reduce heat to low and cook at a gentle simmer until beans are tender but not too soft, stirring and skimming occasionally, 30 minutes. Strain beans over another pot, reserving broth and discarding ham and other seasonings.
3. Meanwhile, fry bacon in a large skillet over medium heat until at least 2 tablespoons fat render out, about 8 minutes. Remove bacon and add celery, green pepper, Vidalia onions and garlic. Sauté over medium-low heat, stirring and scraping up any remaining bits of bacon from pan, until vegetables are just soft, about 4 minutes. Set aside in a large bowl. Rinse and dry skillet, set over medium heat and add 2 tablespoons oil. Add sausage and cook, stirring occasionally, until browned, 5-6 minutes. Add sausage to vegetable mixture.
4. Bring 4½ cups strained broth and rice to a boil in a pot set over high heat. Reduce heat to low, cover and simmer 20 minutes. Meanwhile, make vinaigrette: Whisk together vinegar, mustard, remaining oil and salt and pepper to taste in a small bowl until emulsified.
5. Fluff rice and allow to cool slightly. Add beans and rice to vegetable-sausage mixture and toss with vinaigrette. Add scallions and parsley and toss again. Season with salt and pepper to taste. Serve cold or at room temperature, with hot sauce on the side.
Brief Description
Spicy salad best served cold
Main Ingredient:
Red Beans
Prep Time:
1 hour(s) 30 min
Source
WSJ Off Duty, 7/13/2013, by Julia Reed
Print Recipe