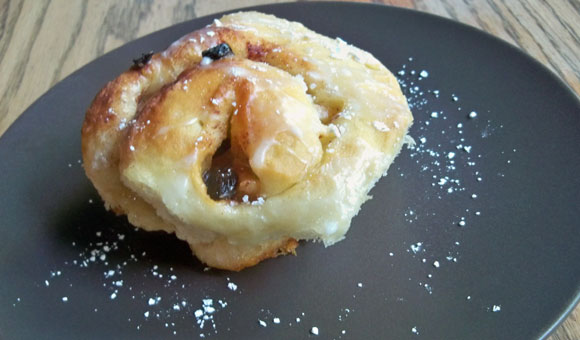 Prep Time: 15 min
Cook Time: 25 min
Number of Servings: 6
Brief Description
Raisins and a light lemon glaze provide a taste that brings raves.
Number of Servings:
Only quantities of ingredients are changed; recipe Directions below will not reflect those changes.
Ingredients:
Cinnamon Rolls
1 loaves - frozen bread dough, thawed
3 tablespoons - butter, melted
1/3 cups - sugar
2 teaspoons - ground cinnamon
1 teaspoons - grated lemon peel
1/2 cups - raisins
Glaze
2/3 cups - confectioners' sugar
2 tablespoons - lemon juice
Directions:
On a lightly floured surface, roll the dough into a 14x10-inch rectangle. Brush with butter. Combine the sugar, cinnamon and lemon peel; sprinkle evenly over butter. Sprinkle with raisins.
Roll up jelly-roll style, starting with a long side; pinch seam to seal. Cut into 12 rolls. Place cut side down in a greased 11x7x2-inch baking pan. Cover and let rise until doubled, about 45 minutes.
Bake at 350 for 25-30 minutes or until golden brown. Cool for 10 minutes. Combine glaze ingredients; brush over rolls.
Brief Description
Raisins and a light lemon glaze provide a taste that brings raves.
Main Ingredient:
frozen bread dough
Notes
Makes 1 dozen. My family prefers it without the lemon, so I mix milk with the confectioners' sugar for the glaze. I have also added finely chopped apples with the raisins sometimes.
Roll up dough firmly. If it's too loose, you'll see air pockets or large gaps when cut. If it's too tight, the bread will crack.
A simple way to slice cinnamon rolls is to use a piece of unflavored dental floss.
Put frozen bread dough in fridge in the morning, then that evening roll it out and make the rolls; let sit for 30 minutes on counter. Then put in fridge 'til next morning. Let sit out of fridge for 30 minutes before putting in oven to bake. Works out perfectly.
Source
Taste of Home Baking
Print Recipe