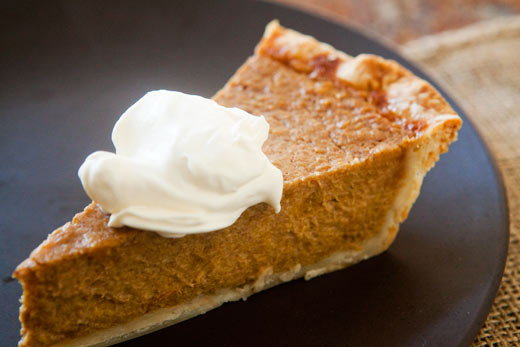 Prep Time: 20 min
Cook Time: 1 hour(s)
Number of Servings: 8
Brief Description
A traditional pumpkin pie recipe.
Number of Servings:
Only quantities of ingredients are changed; recipe Directions below will not reflect those changes.
Ingredients:
1 - 9-inch deep-dish pie shell
2 - eggs
1 cans - pumpkin
3/4 cups - sugar
1/2 teaspoons - salt
1/2 teaspoons - ground ginger
1 teaspoons - Ground cinnamon
1/4 teaspoons - Ground clove
1 2/3 cups - evaporated milk
Directions:
Mix filling ingredients in order given. Pour into pie shell and bake at 425 degrees F for 15 minutes.
Reduce heat to 350 degrees F and bake for 45 more minutes.
Doubling the recipe will make enough filling for 3 whole pies.
Brief Description
A traditional pumpkin pie recipe.
Main Ingredient:
canned pumpkin
Notes
Using pumpkin pie spice in place of the combination of cinnamon, cloves, and ginger is an easy alternative.
Print Recipe