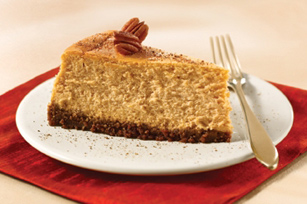 Prep Time: 20 min
Cook Time: 40 min
Number of Servings: 10
Brief Description
Delicious
Number of Servings:
Only quantities of ingredients are changed; recipe Directions below will not reflect those changes.
Ingredients:
1 cups - Graham Crackers - 100 gr
1/2 cups - Ginger Snaps - 50 gr
1 tablespoons - Sugar
4 tablespoons - Butter, Melted
2/3 cups - Light Brown Sugar, 145 gr
1/2 teaspoons - Cinnamon, Ground
1/4 teaspoons - Ginger, Ground
1/8 teaspoons - Cloves, Ground
1/8 teaspoons - Nutmeg, Ground
1/4 teaspoons - Salt
2 packages - Cream Cheese (8 oz ea), Room Temp
3 - Lg Eggs, room temp
1 teaspoons - Vanilla
1 cups - Pumpkin Puree
Directions:
Pumpkin Cheesecake: Preheat oven to 350 degrees F (177 degrees C) and place the oven rack in the center of the oven. Butter, or spray with a non stick spray, an 8 inch (20 cm) spring form pan.
Crust: In a medium sized bowl combine the graham cracker crumbs, crushed ginger cookies, sugar, and melted butter. Press the mixture evenly onto the bottom of the prepared pan. Bake 8-10 minutes or until set. Let cool.
Pumpkin Cheesecake: In a separate bowl, stir to combine the sugar, cinnamon, ginger, cloves, nutmeg, and salt.
In the bowl of your electric mixer (or with a hand mixer), on low speed, beat the cream cheese until smooth (about 2 minutes). Gradually add the sugar mixture and beat until creamy and smooth (1 to 2 minutes). Add the eggs, one at a time, beating well (about 30 seconds) after each addition. Scrape down the sides of the bowl and beat in the vanilla extract and pumpkin puree.
Pour the filling over the crust and place the spring form pan on a baking sheet to catch any drips. Place a cake pan, filled halfway with hot water, on the bottom shelf of your oven to moisten the air. Bake the cheesecake for 30 minutes and then reduce the oven temperature to 325 degrees C (160 degrees C) and continue to bake the cheesecake for another 10 - 20 minutes, or until the edges of the cheesecake are puffed but the center is still a little wet and jiggles when you gently shake the pan. Total baking time 40 - 60 minutes.
Remove from oven and place on a wire rack to cool. Loosen the cake from the pan by running a sharp knife around the inside edge (this will help prevent the cake from cracking). Then place paper towels and a piece of aluminum foil over the top of the pan so the cheesecake will cool slowly (check often - paper becomes soggy). When completely cooled, cover and refrigerate at least eight hours, preferably overnight, before serving.
Brief Description
Delicious
Main Ingredient:
Cream Cheese
Print Recipe