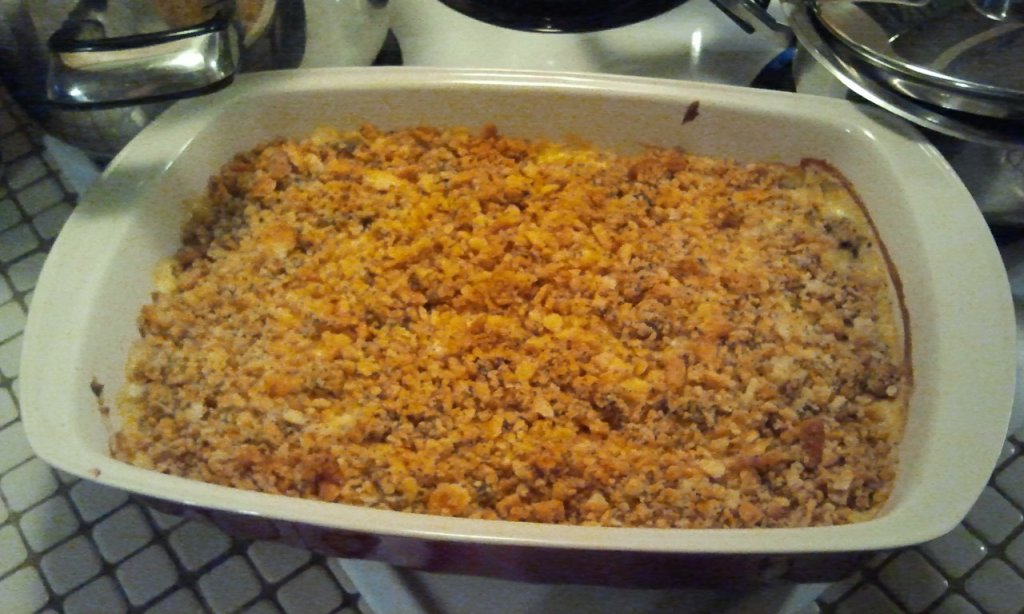 Prep Time: 45 min
Cook Time: 30 min
Number of Servings: 6
Brief Description
Quick and easy - use canned chicken to have on the table in 45 minutes!
Number of Servings:
Only quantities of ingredients are changed; recipe Directions below will not reflect those changes.
Ingredients:
5 cups - Chicken, boiled and cubed
1 cups - sour cream, I used light
2 cans - Cream of chicken condensed soup
2 cups - Ritz crackers, crushed, about 1-1/2 sleeves
1/2 cups - butter, melted
1 tablespoons - poppy seed
1 teaspoons - Worcestshire sauce
1 teaspoons - celery salt
1 teaspoons - garlic, minced
1 tablespoons - lemon juice
1/4 teaspoons - black pepper
Directions:
Instructions:
Preheat oven to 350 degrees.
Boil raw chicken breasts with salt and pepper until done. I like to boil it with half an onion cut into large chunks to give it more flavor. Let chicken cool slightly and cut into one inch cubes. Place cubed chicken in a 9X13 casserole dish.
Stir together the condensed soup and sour cream. If you wish to add the additional flavorings stir in the worchestire, celery salt, garlic, lemon juice, and pepper to the soup and sour cream mixture. Pour over the chicken.
In a separate bowl, stir together the crushed crackers, poppy seeds and melted butter. Sprinkle over the chicken and sauce.
Bake for 30 minutes in the preheated oven, until the top of the casserole is browned and the sauce is bubbly. Serve plain or over rice.
Brief Description
Quick and easy - use canned chicken to have on the table in 45 minutes!
Print Recipe