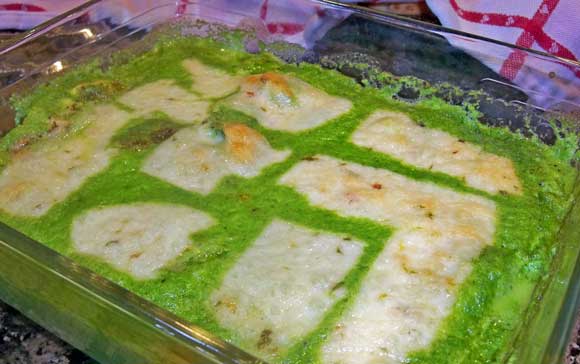 Prep Time: 15 min
Cook Time: 30 min
Number of Servings: 4
Brief Description
A baked dish with seasoned chicken and a poblano cream sauce.
Number of Servings:
Only quantities of ingredients are changed; recipe Directions below will not reflect those changes.
Ingredients:
4 - poblano chiles
1/2 cups - milk
4 tablespoons - butter
1 tablespoons - flour
1 cups - Mexican crema or heavy cream
4 - chicken breast halves
1 cups - manchego, jack or gouda cheese
- salt to taste
Directions:
Preparation: Prepare chiles by cutting off tops, de-seeding, and rinsing. Then place the chiles in blender with milk and blend til smooth. In saucepan, melt 2 tablespoons of the butter, add flour and brown lightly. Add the chile puree, stirring with a whisk until smooth. Add the cream, stirring constantly over medium heat until it just begins to bubble (about 10 minutes). Remove from heat and add salt to taste (this sauce may be made one day in advance and chilled).
Melt the remaining 2 tablespoons butter in a skillet and saute chicken breasts until nicely browned. Turn and sauce on the second side for just a minute or two. Place them in a buttered baking dish. Pour the poblano cream sauce over all and top with grated cheese. Bake uncovered in a 350 F oven for 20 minutes. The cheese should be golden and bubbly.
Brief Description
A baked dish with seasoned chicken and a poblano cream sauce.
Print Recipe