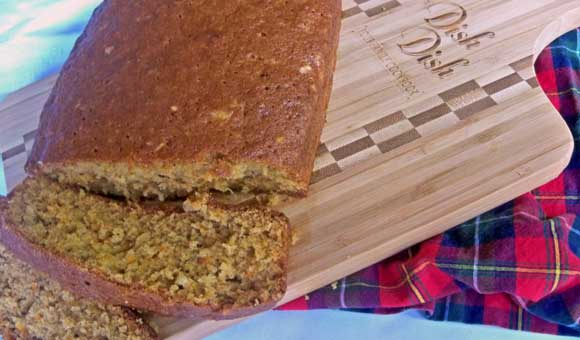 Prep Time: 10 min
Cook Time: 1 hour(s) 5 min
Number of Servings: 10
Brief Description
Great flavor of carrot cake, jazzed up with pineapple.
Number of Servings:
Only quantities of ingredients are changed; recipe Directions below will not reflect those changes.
Ingredients:
3 cups - all-purpose flour
2 cups - sugar
1 teaspoons - baking soda
1 teaspoons - ground cinnamon
3/4 teaspoons - salt
3 - eggs
2 cups - shredded carrots
1 cups - vegetable oil
1 cans - crushed pineapple, drained, 8 oz.
2 teaspoons - vanilla extract
1 cups - chopped pecans or walnuts, optional
3/4 cups - confectioners' sugar, optional
1 1/2 teaspoons - milk, optional
1 cups - raisins
Directions:
In a large bowl, combine the flour, sugar, baking soda, cinnamon and salt. In another bowl, beat the eggs; add carrots, oil, pineapple and vanilla. Stir into dry ingredients just until moistened. Fold in nuts and raisins.
Spoon into 2 greased 8x4x2-inch loaf pans. Bake at 350 for 65-75 minutes or until a toothpick inserted near the center comes out clean. Cool for 10 minutes before removing from pans to wire racks to cool completely.
If glaze is desired, combine confectioners' sugar and milk; drizzle over loaves.
Brief Description
Great flavor of carrot cake, jazzed up with pineapple.
Cook Time:
1 hour(s) 5 min
Source
The Taste of Home Baking Book, 2007
Print Recipe