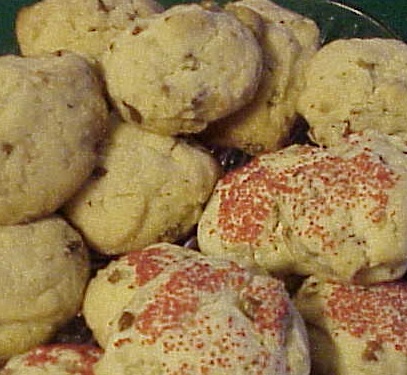 Prep Time: 15 min
Cook Time: 12 min
Number of Servings: 36
Brief Description
These cookies will melt in your mouth.
Number of Servings:
Only quantities of ingredients are changed; recipe Directions below will not reflect those changes.
Ingredients:
1 cups - butter, softened
1 cups - vegetable oil
1 cups - white sugar
1 cups - confectioners' sugar
2 - eggs
1 teaspoons - vanilla extract
4 cups - all-purpose flour
1 teaspoons - baking soda
1 teaspoons - cream of tartar
1 teaspoons - salt
2 cups - chopped pecans
1/2 cups - white sugar, for decoration
Directions:
Preheat oven to 375 degrees F.
In large bowl, cream together butter, oil, 1 cup sugar and confectioners' sugar until smooth. Beat in eggs one at a time, then stir in vanilla.
In separate bowl, combine flour, baking soda, cream of tartar and salt. Stir into creamed mixture. Mix in the pecans.
Roll dough into 1-inch balls and roll each ball in sugar. (To limit sugar I will just dip the tops in sugar). Place cookies 2 inches apart on ungreased cookie sheets.
Bake for 10-12 minutes or until edges are golden. Cool on wire racks.
Brief Description
These cookies will melt in your mouth.
Notes
While these cookies are still hot, I sometimes push a piece of pecan in the center. One time I did not roll the balls of dough in the sugar; they still melted in your mouth. For Valentines Day I sprinkled some with red sugar.
Print Recipe