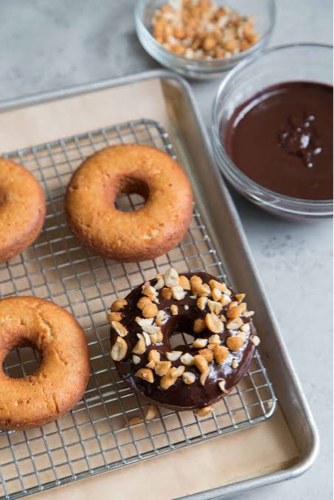 Prep Time: 10 min
Cook Time: 10 min
Number of Servings: 12
Number of Servings:
Only quantities of ingredients are changed; recipe Directions below will not reflect those changes.
Ingredients:
1 1/4 cups - plain flour
1/2 cup - sugar
1/4 cup - peanut butter powder
1 tablespoon - cornstarch
1 teaspoon - baking powder
1/2 teaspoon - baking soda
1/4 teaspoon - salt
2 tablespoons - butter, melted and cooled
2/3 cup - Greek yogurt
1 - egg, lightly beaten
1 teaspoon - vanilla extract
1/4 cup - vanilla almond milk, + 1 tablespoon
Directions:
Preheat oven to 375 degrees F and lightly grease a 12 mould donut pan.
In a medium sized bowl, whisk together flour, sugar, peanut butter powder, cornstarch,baking powder, baking soda and salt.
In a separate large bowl, combine melted butter, Greek yoghurt, lightly beaten egg and vanilla extract. Stir until well combined, then add milk and stir again until combined.
Add dry ingredients to wet and stir until just combined.
Pour batter into a large ziplock bag and snip off the corner of the bag for a makeshift piping bag.
Pipe the batter into the donut pans, filling each mould 2/3 of the way full.
Bake for 10 minutes before glazing.