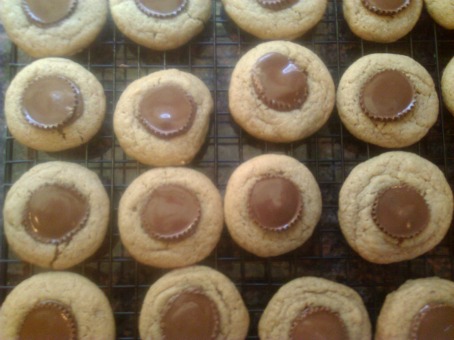 Prep Time: 20 min
Cook Time: 8 min
Number of Servings: 20
Brief Description
Peanut butter cookies with mini Reese's Cups.
Number of Servings:
Only quantities of ingredients are changed; recipe Directions below will not reflect those changes.
Ingredients:
1 3/4 cups - flour
1/2 teaspoons - salt
1 teaspoons - baking soda
1/2 cups - butter, softened
1/2 cups - white sugar
1/2 cups - peanut butter
1/2 cups - packed brown sugar
1 whole - egg, beaten
1 teaspoons - vanilla extract
2 tablespoons - milk
40 - miniature Reese's cups, unwrapped
Directions:
Preheat oven to 375°. Sift together flour, salt and baking soda. Set aside.
Cream together butter, sugar, peanut butter and brown sugar. Beat in egg, vanilla and milk. Add flour mixture and mix. Shape into balls (about 1 tablespoon) and place on cookie sheet.
Bake at 375° for 8 minutes. Remove from oven and press Reese's cup into each cookie. Cool for a few minutes on the pan before removing to rack to cool. Cool cookies completely before storing. Reese's cups will be very soft. Of course, you could just eat them at this point and not worry about the whole cooling/storing issue!
Brief Description
Peanut butter cookies with mini Reese's Cups.
Main Ingredient:
Peanut Butter
Notes
I have seen these in similar recipes baked in mini muffin tins.
Print Recipe