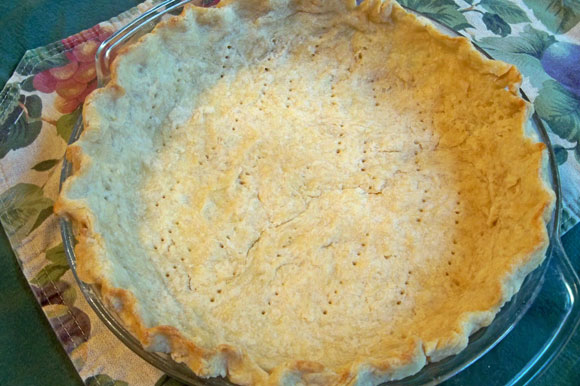 Prep Time: 20 min
Cook Time: 10 min
Number of Servings: 8
Brief Description
Use this pastry for your favorite variety of pies
Number of Servings:
Only quantities of ingredients are changed; recipe Directions below will not reflect those changes.
Ingredients:
1 1/4 cups - flour
1/4 teaspoons - salt
1/3 cups - shortening
4 tablespoons - cold water
Directions:
In a mixing bowl, stir together flour and salt. Cut in shortening or lard until pieces are the size of small peas.
Sprinkle 1 tablespoon of the water over part of the mixture; gently toss with a fork. Push to side of bowl. Repeat until all is moistened (may take between 4 and 5 tablespoons of water) . Form dough into a ball.
On a lightly floured surface, flatten dough with hands. Roll dough from center to edges, forming a circle about 12 inches in diameter. Wrap pastry around rolling pin. Unroll onto a 9-inch pie plate. Ease pastry into pie plate, being careful not to stretch pastry.
Trim to 1/2 inch beyond edge of pie plate; fold under extra pastry. Make a fluted, rope-shape, or scalloped edge. Do not prick pastry. Bake as directed in individual recipes.
Or for baked pie crust, prick pastry with fork along bottom and sides of pan, and bake at 450 degrees Fahrenheit for 10 minutes or until lightly browned.
Brief Description
Use this pastry for your favorite variety of pies
Source
Better Homes and Gardens, 1989
Print Recipe