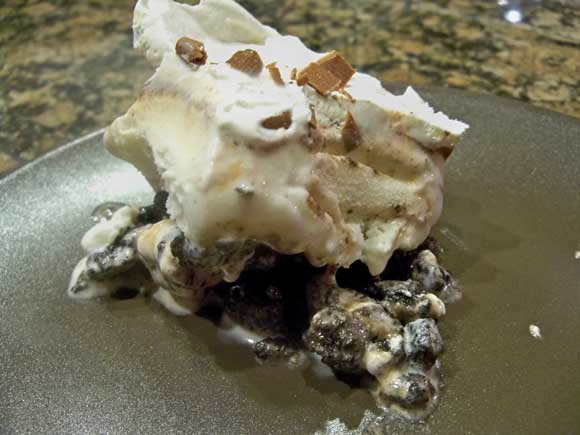 Prep Time: 30 min
Number of Servings: 12
Brief Description
All the kids' friends want Mom to fix this one.
Number of Servings:
Only quantities of ingredients are changed; recipe Directions below will not reflect those changes.
Ingredients:
whole - 30 Oreo Cookies
1/2 cups - Butter
1/2 gallons - Vanilla Ice Cream
2/3 cups - Sugar
2 ounces - Semi-Sweet Chocolate
2/3 cups - Evaporated Milk
1 teaspoons - Vanilla
8 ounces - Cool Whip
Directions:
Crush cookies and combine with 1/4 cup of the butter, melted. Pat into an oblong cake pan. Put ice cream on top of the Oreo cookies (easiest way is to cut the ice cream in slices and place the slice on top of the cookies). Keep in freezer while doing below.
Melt the remaining 1/4 cup butter with the sugar and the chocolate; gradually add the evaporated milk. Cook until it begins to thicken. Stir in vanilla. Allow chocolate to cool for about 30 minutes.
Spread sauce over ice cream in the cake pan. Freeze. Top with Cool Whip. May garnish with nuts and chocolate curls.
Brief Description
All the kids' friends want Mom to fix this one.
Main Ingredient:
Oreo cookies
Print Recipe