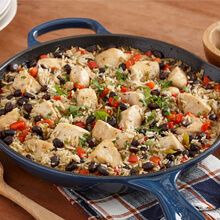 Prep Time: 25 min
Cook Time: 20 min
Number of Servings: 8
Brief Description
Winner Winner, Perdue Dinner!
Number of Servings:
Only quantities of ingredients are changed; recipe Directions below will not reflect those changes.
Ingredients:
1 packages - PERDUE® Fresh Boneless Skinless Chicken Breasts or PERDUE® FRESH CUTS™ Diced Chicken Breast
2 teaspoons - GOYA® Adobo All-Purpose Seasoning with Pepper
2 tablespoons - Extra Virgin Olive Oil
2 cups - Jasmine rice
3 cups - low sodium chicken stock
1 jars - Recaito cilantro cooking base (12 oz.)
1 cans - low sodium black beans (15.5 oz.), rinsed and drained
1 cans - diced green chiles (4 oz.)
1 - red bell pepper, diced
1 - Lime, juiced
1/2 cups - fresh cilantro, chopped
Directions:
Step 1: Cube
Cube chicken breasts into 1 ½ pieces and season with GOYA® Adobo seasoning. In a large skillet, heat olive oil over medium-high heat. Add chicken and sauté for 3 to 5 minutes until well browned, but not fully cooked. One browned, transfer chicken onto a plate.
Step 2: Saute
In the same skillet, add jasmine rice and stir about 1 min, until rice begins to turn opaque. Add chicken stock and Reciato and stir until well mixed. Next, add black beans, diced green chilies, red bell pepper and brown chicken cubes. Stir until well mixed and bring to a boil.
STEP 3:  SIMMER
Cover skillet and turn heat to low. Simmer for 20 mins, until rice is tender and chicken is cooked through. Chicken is done when meat thermometer inserted into the center reached 170°F.
STEP 4:  SERVE
Once chicken is cooked, remove lid and fluff with a fork. Stir in lime juice and chopped cilantro. Serve with lime wedges, if desired.
Brief Description
Winner Winner, Perdue Dinner!
Source
https://www.perdue.com/recipes/view/?recipeid=2423&versionno=1&view=print
Print Recipe