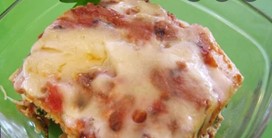 Prep Time: 1 hour(s)
Cook Time: 1 hour(s)
Number of Servings: 10
Brief Description
Italian sausage and beef lasagna with whole wheat noodles.
Number of Servings:
Only quantities of ingredients are changed; recipe Directions below will not reflect those changes.
Ingredients:
8 ounces - (227 g) light mild Italian sausage
8 ounces - (227 g) extra-lean ground beef
1 cups - chopped onion
2 teaspoons - minced garlic
1 teaspoons - dried oregano
1/4 teaspoons - crushed red pepper flakes
1 jars - 22 oz. / 700 mL favorite tomato pasta sauce
1 cans - 19 oz. / 540 mL diced tomatoes with Italian herbs, undarined
1/3 cups - fresh basil leaves, chopped
1 tablespoons - balsamic vinegar
1/2 teaspoons - freshly ground black pepper
12 - uncooked whole wheat lasagna noodles
2 cups - part-skim ricotta cheese
1 packages - 10 oz / 300 g frozen spinach, thawed, squeezed dry and chopped
1/3 cups - freshly grated Parmesan, Romano or Asiago cheese
1 - egg
1 1/2 cups - (6 oz. / 170 g) packed shredded light mozzarella cheese
Directions:
Spray a 9-by-13-inch baking dish with cooking spray and set aside.
To make sauce, spray a large non-stick pot or deep, non-stick skillet with cooking spray. Remove casing from sausage and break into small pieces in skillet. Add ground beef, onions and garlic.
Cook and stir over medium-high heat until meat is no longer pink. Stir in oregano and crushed red pepper flakes. Cook 1 more minute.
Add pasta sauce, tomatoes, basil, vinegar and black pepper. Bring mixture to a boil. Reduce heat to low. Cover and simmer for 20 minutes.
While sauce is simmering, cook lasagna noodles according to package directions. Drain. Rinse with cold water and drain again.
In a medium bowl, mix together ricotta, spinach, Parmesan cheese and egg. Refrigerate until ready to use.
To assemble lasagna, spread 1 cup meat sauce over bottom of baking dish. Top with 4 noodles, cutting pieces to fit if necessary. Spread 1/3 remaining sauce over noodles, followed by 1/3 mozzarella. Top with 4 more noodles, 1/3 of sauce, all of ricotta mixture and 1/3 mozzarella. For top layer: 4 noodles, 1/3 sauce, 1/3 mozzarella.
Cover lasagna with foil and bake at 375° F for 35 minutes. Uncover and bake for an additional 15 minutes. Let lasagna stand, uncovered, for 15 minutes before serving.
Brief Description
Italian sausage and beef lasagna with whole wheat noodles.
Main Ingredient:
Italian sausage
Print Recipe