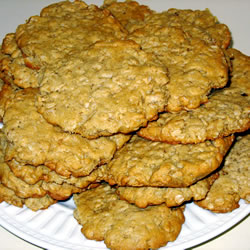 Prep Time: 20 min
Cook Time: 10 min
Number of Servings: 36
Brief Description
Oatmeal cookies with nuts
Number of Servings:
Only quantities of ingredients are changed; recipe Directions below will not reflect those changes.
Ingredients:
1 cups - shortening
1 cups - brown sugar
1 cups - granulated sugar
2 - eggs
1 teaspoons - vanilla extract
1 1/2 cups - all-purpose flour
1/2 teaspoons - salt
1 teaspoons - baking soda
3 1/2 cups - old-fashioned oats
1 cups - pecans
Directions:
Cream shortening and sugars; add eggs and vanilla. Beat until blended. Sift together flour, salt, and baking soda; add to creamed mixture. Stir in oatmeal and nuts. Form into 1-1/2 inch rolls, wrap in plastic wrap, chill, slice and bake; OR dampen hands as needed, form into 1-inch balls and place on cookie sheet. Bake in 350 degree oven about 8 to 10 minutes or until very lightly browned.
Brief Description
Oatmeal cookies with nuts
Notes
If not using pecans in recipe, increase oats to 4 cups.
Variation: If adding chocolate chips, add 1 (12-ounce) package of chocolate chips, and reduce oats to 3 cups.
Print Recipe