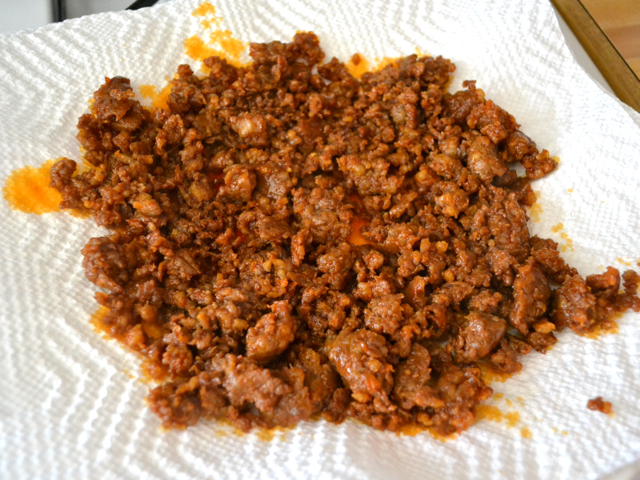 Prep Time: 40 min
Number of Servings: 8
Brief Description
Mexican Chorizo
Number of Servings:
Only quantities of ingredients are changed; recipe Directions below will not reflect those changes.
Ingredients:
2 pounds - Ground Pork
3 - Guajillos, dried
1/2 cups - Apple Cider Vinegar
1/2 - onion, diced
6 cloves - garlic, chopped
1/2 teaspoons - cinnamon
1 teaspoons - cumin
1 teaspoons - paprika, not smoked paprika
1 teaspoons - oregano
1/2 teaspoons - cayenne
4 teaspoons - salt
Directions:
In a dry skillet heated on high, toast the chiles on each side for about 10 seconds or just until they start to puff. Fill the skillet with enough water to cover chiles. Leave the heat on until water begins to boil and then turn off the heat and let chiles soak until soft, about 30 minutes.
After chiles are moist, drain the water and place the chiles and vinegar in a blender, also adding the diced onion and chopped garlic. Puree until a smooth, bright red paste is formed (can add a splash of water or vinegar if it's too dry to blend). It will look like ketchup.
Add the chile puree to the ground pork, along with the rest of the spices. Mix well. To test the flavors, pinch off a small piece and fry it up in a skillet for a minute or so. Taste it and add more spices if needed.
You can let it sit for a few hours so the flavors will meld, but I find it's delicious just after making as well. Will keep in the refrigerator for a few days, and it freezes nicely.
Brief Description
Mexican Chorizo
Notes
Grind your own pork!
Print Recipe