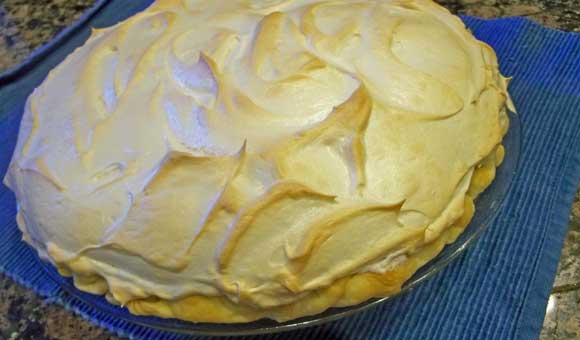 Prep Time: 15 min
Number of Servings: 8
Brief Description
Meringue to top a cream or chocolate pie.
Number of Servings:
Only quantities of ingredients are changed; recipe Directions below will not reflect those changes.
Ingredients:
3 whole - Egg Whites
1/2 teaspoons - Vanilla
1/4 teaspoons - Cream of Tartar
6 tablespoons - Sugar
Directions:
Bring egg whites to room temperature. In a mixing bowl combine egg whites, vanilla, and cream of tartar. Beat with an electric mixer on medium speed about 1 minute or until soft peaks form (tips curl). Gradually add sugar, 1 tablespoon at a time, beating on high speed about 4 minutes more or until mixture forms stiff, glossy peaks and sugar dissolves. Immediately spread meringue over pie, carefully sealing to edge of pastry to prevent shrinkage. Bake as directed in pie recipe.
Brief Description
Meringue to top a cream or chocolate pie.
Main Ingredient:
Egg whites
Notes
Four-Egg-White Meringue: Prepare as above, except use 4 egg whites, 1 teaspoon vanilla, 1/2 teaspoon Cream of Tartar, and 1/2 cup sugar. Beat about 5 minutes until stiff, glossy peaks form.
Source
Better Homes and Gardens, 1989
Print Recipe