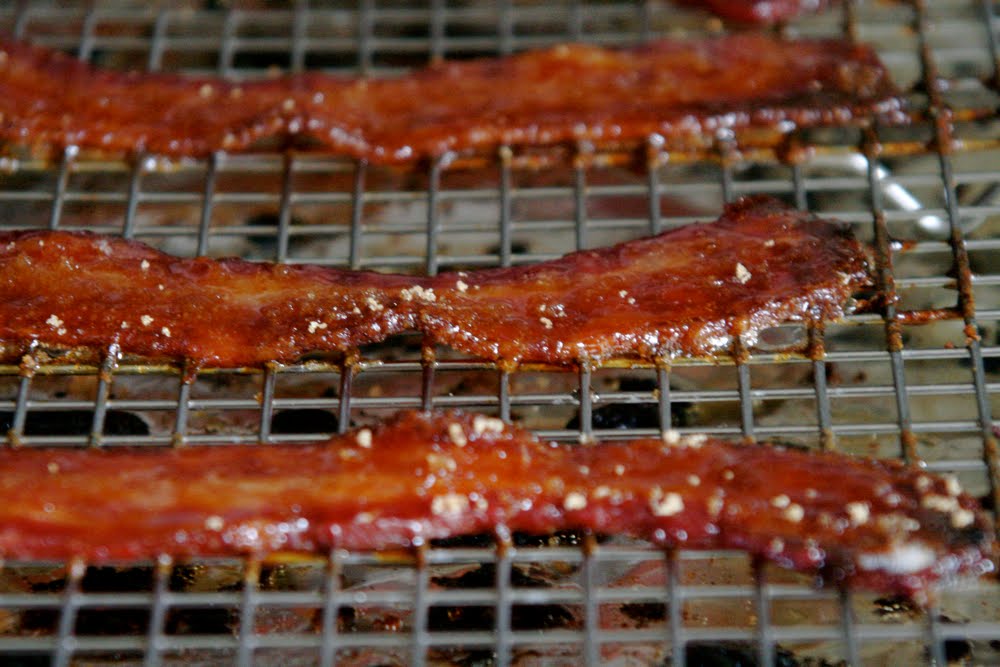 Prep Time: 5 min
Cook Time: 30 min
Number of Servings: 6
Brief Description
Sooo good
Number of Servings:
Only quantities of ingredients are changed; recipe Directions below will not reflect those changes.
Ingredients:
1 pounds - Bacon
2 tablespoons - Maple Syrup
1/4 cups - Brown Sugar
1/2 teaspoons - Kosher Salt
1/4 teaspoons - Cayenne Pepper
Directions:
Preheat your oven to 350 F.
Wrap a rimmed baking sheet with aluminum foil and top with a wire rack.
In a large bowl, add the maple syrup, brown sugar, Kosher salt, and cayenne pepper. Mix well.
Add the bacon to and toss gently with your hands. Make sure that all of the slices are evenly coated.
Place the bacon in a single layer onto the wire rack.
Bake in the center of the oven for about 20 minutes. The bacon will be a bit brown, but will most likely need to bake for another 10-15 minutes. It should look slightly dark (not burnt) and crispy. If you take it out too soon, the texture will be chewy.
Remove from the oven and cool for 5 minutes on the rack. Don't let them sit too long or else they will stick.
Once cool enough to handle, you can break the bacon into pieces (you'll have about 32 pieces). Or, you can leave them whole.
Serve at room temperature.