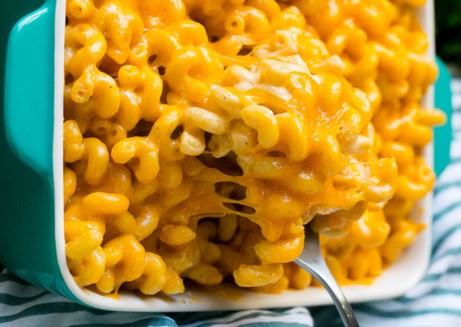 Prep Time: 20 min
Cook Time: 40 min
Number of Servings: 8
Brief Description
Macaroni and cheese for a large group.
Number of Servings:
Only quantities of ingredients are changed; recipe Directions below will not reflect those changes.
Ingredients:
4 cups - macaroni, cook according to package instructions
2 1/2 cups - grated old or extra old cheddar cheese
1/2 cups - butter
8 tablespoons - flour
6 cups - milk
- salt and pepper, to taste
2 slices - to 4 slices of bread, torn into medium size cubes
- melted butter, to mix with bread crumbs
- grated cheddar and parmesan, for sprinkling on top
Directions:
Make large amount of cream sauce by melting butter and blending in the flour. Put over medium heat and stir milk in slowly. Cook and stir until it almost bubbles on top and sauce has thickened.
Add 2 cups of the grated cheese and stir until it melts. Add salt and pepper to taste (cheese has a lot of salt, so use salt sparingly).
Make sure there is lots of cream sauce. Add cooked pasta to cream sauce, adding more milk if necessary.
Place in large shallow casserole dish.
Cut slices of bread into medium size cubes and shake well in melted butter. Put cubes on top of casserole with additional grated cheddar cheese and Parmesan sprinkled generously over the casserole.
Bake in a 350 degree F oven until top is bubbly and brown.
Brief Description
Macaroni and cheese for a large group.
Source
Susan and Richard Schmaltz
Print Recipe