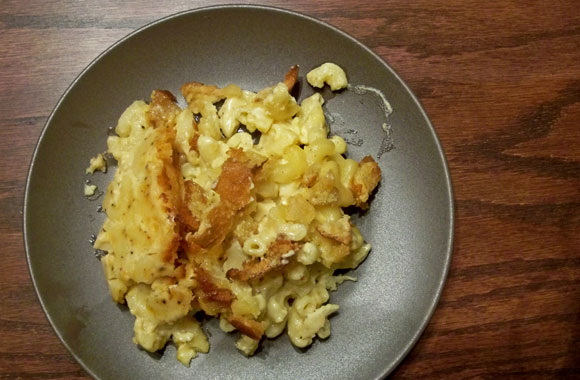 Prep Time: 15 min
Cook Time: 1 hour(s)
Number of Servings: 8
Brief Description
A rich and creamy dish with tart cheese and sweet lobster.
Number of Servings:
Only quantities of ingredients are changed; recipe Directions below will not reflect those changes.
Ingredients:
- olive oil, for cooking
1 pounds - elbow macaroni
4 cups - milk
1 sticks - butter or margarine, divided
1/2 cups - flour
12 ounces - Gruyere or Swiss cheese, grated, about 4 cups
8 ounces - extra sharp cheddar cheese, grated, about 2 cups
1/2 teaspoons - ground black pepper
1/2 teaspoons - nutmeg
1 1/2 pounds - cooked lobster meat
1 1/2 cups - fresh white bread crumbs, 5 slices, crusts removed, toasted, crumbled
Directions:
Preheat oven to 375 degrees F.
Add a little oil to a large pot of boiling salted water. Add pasta and cook according to package directions, 6-8 minutes. Drain well.
Heat milk in small saucepan, but don't boil (or heat in microwave). In a large pot melt 6 tablespoons of the butter or margarine and add the flour; stir well. Cook over low heat for 1 minute, stirring with a whisk. Continue to whisk while adding the hot milk and cook for a minute or two more, until thickened and smooth. Remove from heat and add the cheese, salt, pepper and nutmeg. Add cooked macaroni and lobster meat and stir well. Place the mixture in 6 or 8 individual gratin dishes or in one large baking dish sprayed with baking spray.
Melt the remaining 2 tablespoons of butter or margarine; combine with the fresh bread crumbs (make bread crumbs by lightly toasting bread and crumbling into a small bowl), and sprinkle this mixture on top of macaroni in dish. Bake uncovered 30-35 minutes or until sauce is bubbly and macaroni is browned on top.
Brief Description
A rich and creamy dish with tart cheese and sweet lobster.
Print Recipe