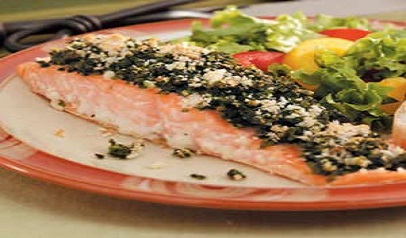 Prep Time: 15 min
Cook Time: 30 min
Number of Servings: 4
Brief Description
Argentina flare to Salmon
Number of Servings:
Only quantities of ingredients are changed; recipe Directions below will not reflect those changes.
Ingredients:
For the Salmon:
4 - Salmon Filets
4 sticks - Lemongrass sticks
4 - Tomatoes
1 - Vanilla Bean Pod
30 grams - Brown Sugar
- Olive Oil
40 grams - Almonds, blanched
20 grams - Hazelnuts, toasted
50 grams - Parmesan Flakes
20 grams - Bread Crumbs, toasted
Pesto Sauce:
4 cloves - Garlic, chopped
- Sea Salt
- Freshly Ground Black Pepper
3 handful - Fresh Basil, leaves picked and chopped
1 handful - Pine Nuts, lightly toasted
1 handful - Parmesan Cheese, grated
- Extra-Virgin Olive Oil
1 - Squeeze of Lemon Juice, optional
Directions:
Cut each tomato into quarters and arrange them on a baking sheet with sugar, the fresh vanilla bean pod, salt and pepper. Cook at 140 Celcius (285 F) for 30 mins. Keep warm until plated.
Insert the lemongrass sticks through the central part of the salmon and cook it on a pan at medium-high heat for 6 minutes on each side. When finished, the salmon should be juicy inside.
Make the Pesto Sauce:
Pound the garlic with a little pinch of salt and basil leaves with a pestle and mortar or pulse in a food processor. Then, add the pine nuts to the mixture and pound again. Next, pour the contents into a bowl and add half the parmesan cheese. Stir gently and add olive oil to make a thick sauce-like consistency. Then, season to taste, and add the remaining cheese.
Next, arrange the roasted vanilla tomatoes in the middle of a plate and garnish with all dry ingredients. Decorate the plate with pesto sauce. Place the salmon on top of the tomatoes.
Serve the rest of the pesto sauce in a side bowl.
Brief Description
Argentina flare to Salmon
Source
El Faro Restaurant, Hilton Buenos Aires, Argentina
Print Recipe