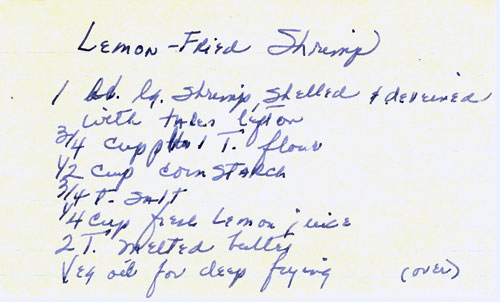 Prep Time: 20 min
Cook Time: 10 min
Number of Servings: 4
Brief Description
Battered and fried shrimp.
Number of Servings:
Only quantities of ingredients are changed; recipe Directions below will not reflect those changes.
Ingredients:
1 pounds - shrimp, shelled, deveined, with tails left on
3/4 cups - flour
1 tablespoons - flour
1/2 cups - cornstarch
3/4 teaspoons - salt
1/4 cups - fresh lemon juice
2 tablespoons - melted butter
- vegetable oil for deep frying
Directions:
In medium bowl, combine flour, 1/4 cup cornstarch and salt. Mix lemon juice and 1/2 cup water together and pour over dry ingredients; whisk until smooth. Stir in melted butter.
Place remaining cornstarch on a plate. Dredge shrimp in cornstarch, shaking off excess, and dip in batter. Fry in deep fat until brown (do not crowd).
Drain and serve warm.