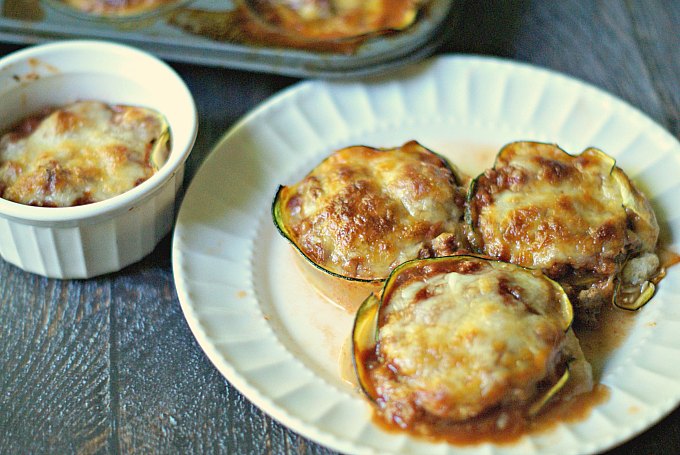 Prep Time: 20 min
Cook Time: 25 min
Number of Servings: 4
Brief Description
3 zucchini
 1 tbsp. olive oil
 1/2 onion, chopped
 2 garlic cloves, minced
 1/2 lb. ground beef
 1/2 tsp. dried oregano
 salt
 black pepper
 1 14.5-oz. can crushed tomatoes
 1/2 c. ricotta
 1/2 c. shredded mozzarella
 1/4 c. freshly grated Parmesan, plus more for sprinkling
 Chopped parsley, for garnish
Number of Servings:
Only quantities of ingredients are changed; recipe Directions below will not reflect those changes.
Directions:
1. Preheat oven to 350°. Grease a baking sheet with cooking spray or olive oil.
2. In a large skillet over medium heat, heat oil. Add onion and cook until tender, about 5 minutes. Stir in garlic and cook until fragrant, about 30 seconds. Add ground beef, breaking up the meat with a wooden spoon. Season with oregano, salt and pepper, and cook until the beef is no longer pink, around 6 minutes. Drain fat. Add crushed tomatoes and bring mixture to a simmer. Cook for 5 minutes then stir in ricotta and remove from heat.
3. Cut zucchini crosswise into 3" pieces. Using a half teaspoon, scoop out zucchini flesh to create wells. Transfer to prepared baking sheet and fill with meat mixture. Top with mozzarella and Parmesan and bake until the cheese has melted and the zucchini is tender, 20 to 25 minutes.
4. Garnish with parsley and Parmesan.
Brief Description
3 zucchini
 1 tbsp. olive oil
 1/2 onion, chopped
 2 garlic cloves, minced
 1/2 lb. ground beef
 1/2 tsp. dried oregano
 salt
 black pepper
 1 14.5-oz. can crushed tomatoes
 1/2 c. ricotta
 1/2 c. shredded mozzarella
 1/4 c. freshly grated Parmesan, plus more for sprinkling
 Chopped parsley, for garnish
Print Recipe