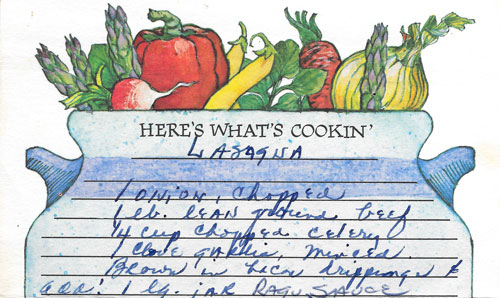 Prep Time: 25 min
Cook Time: 1 hour(s) 10 min
Number of Servings: 8
Brief Description
Traditional layered lasagna dish.
Number of Servings:
Only quantities of ingredients are changed; recipe Directions below will not reflect those changes.
Ingredients:
1 - onion, chopped
1 pounds - lean ground beef
1/4 cups - chopped celery
1 cloves - garlic, minced
- bacon drippings, for cooking in
1 jars - large Ragu sauce
1 teaspoons - salt
1/4 teaspoons - cayenne
1/2 teaspoons - oregano
1 - bay leaf
- lasagna noodles
1 1/2 cups - cottage cheese
1/2 pounds - mozzarella cheese, grated
- Parmesan cheese, for topping
Directions:
In bacon drippings, brown the ground beef, onion, celery and garlic.
Add Ragu sauce, salt, cayenne, oregano, and bay leaf. Simmer for 20 to 30 minutes.
Meanwhile, cook the lasagna noodles in boiling water until tender. Drain.
Arrange in layers: noodles, sauce, cottage cheese, and mozzarella. Top with Parmesan cheese and bake at 350 degrees F for 30 minutes.
Brief Description
Traditional layered lasagna dish.
Main Ingredient:
ground beef
Cook Time:
1 hour(s) 10 min
Print Recipe