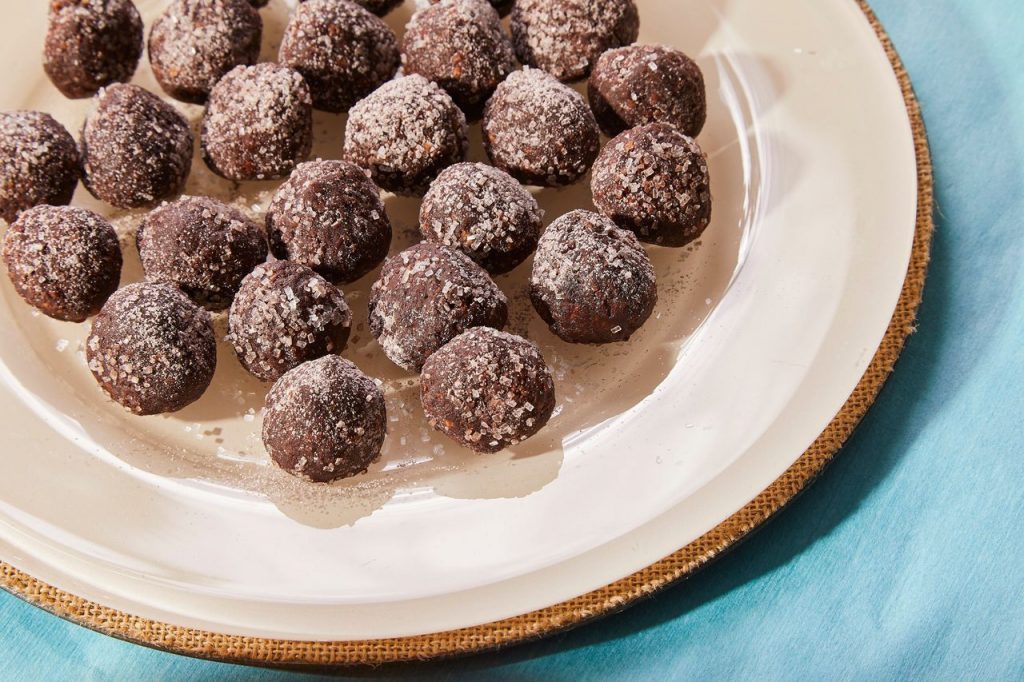 Number of Servings: 24
Brief Description
Boozy, chocolaty, no-bake treats work for dessert or cocktail hour
Number of Servings:
Only quantities of ingredients are changed; recipe Directions below will not reflect those changes.
Ingredients:
1 cups - pecans
3/4 cups - bourbon, divided
2 cups - Nilla Wafers crumbs
1/2 teaspoons - orange zests
1 tablespoons - fresh orange juice
1/2 teaspoons - vanilla extract
1/2 cups - cocoa powder
1/2 cups - confectioners' sugar
1/4 cups - Lyle's Golden Syrup
cups - sanding sugar, turbinado or other coarse raw sugar
Directions:
1. In a small bowl, combine pecans and 1/4 cup bourbon. Let soak 2 hours. Drain, reserving bourbon. Pat pecans dry and spread on a baking sheet.
2. Preheat oven to 325 degrees. Toast nuts until you can smell them, about 13 minutes. Let cool to room temperature.
3. Once nuts are cool, finely chop and transfer them to a mixing bowl along with remaining bourbon, Nilla Wafers crumbs, ¼ cup cocoa powder, ¼ cup confectioners' sugar and golden syrup. Stir well to make sure all ingredients are thoroughly combined.
4. Roll dough into 1-inch balls. Combine remaining cocoa powder and confectioners' sugar in a wide bowl. Place sanding sugar in a second wide bowl. Roll each ball first in cocoa sugar, then in sanding sugar, pressing slightly to insure the coating sticks. Transfer balls to a parchment-lined rimmed baking sheet. Refrigerate until firm, 2 hours. These can be stored in a closed container in the refrigerator for 3 days.
5. Serve chilled or at room temperature. Do not leave out in the heat or sun, or the bourbon balls will lose their shape.
Brief Description
Boozy, chocolaty, no-bake treats work for dessert or cocktail hour
Notes
MAKES: 2 dozen balls
Source
https://www.wsj.com/articles/the-no-bake-dessert-that-doubles-as-a-cocktail-11589450414?mod=searchresults&page=1&pos=1
Print Recipe