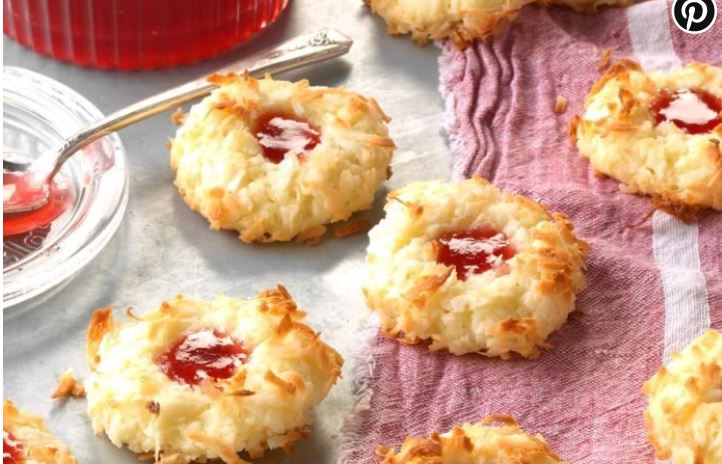 Prep Time: 50 min
Cook Time: 12 min
Number of Servings: 42
Brief Description
Tender coconut thumbprint cookies filled with raspberry preserves.
Number of Servings:
Only quantities of ingredients are changed; recipe Directions below will not reflect those changes.
Ingredients:
1/3 cups - butter, softened
3 ounces - cream cheese, softened
3/4 cups - sugar
1 - large egg yolk
2 teaspoons - orange juice
1 teaspoons - almond extract
1 1/4 cups - all-purpose flour
1 1/2 teaspoons - baking powder
1/4 teaspoons - salt
3 3/4 cups - sweetened shredded coconut, divided
1 cups - seedless raspberry preserves, warmed
Directions:
Cream butter, cream cheese and sugar together until light and fluffy. Beat in egg yolk, orange juice and almond extract.
In a separate bowl, whisk together flour, baking powder and salt. Gradually beat this dry mixture into the creamed mixture.
Stir in 3 cups of the coconut. Refrigerate until easy to handle, about 30 minutes.
Preheat oven to 350 degrees F. Shape rounded tablespoons of dough into balls and roll in remaining coconut.
Place dough balls 2 inches apart on an ungreased baking sheet. Press a deep indentation in the center of each dough ball with the end of a wooden spoon handle.
Bake until edges are lightly browned, 8-10 minutes; cool for 1 minute.
Using the wooden spoon handle, enlarge any indentations that may have narrowed or closed while baking. Remove cookies from pans and let cool on wire rack.
Fill indentations with preserves; cool completely.
Brief Description
Tender coconut thumbprint cookies filled with raspberry preserves.
Print Recipe