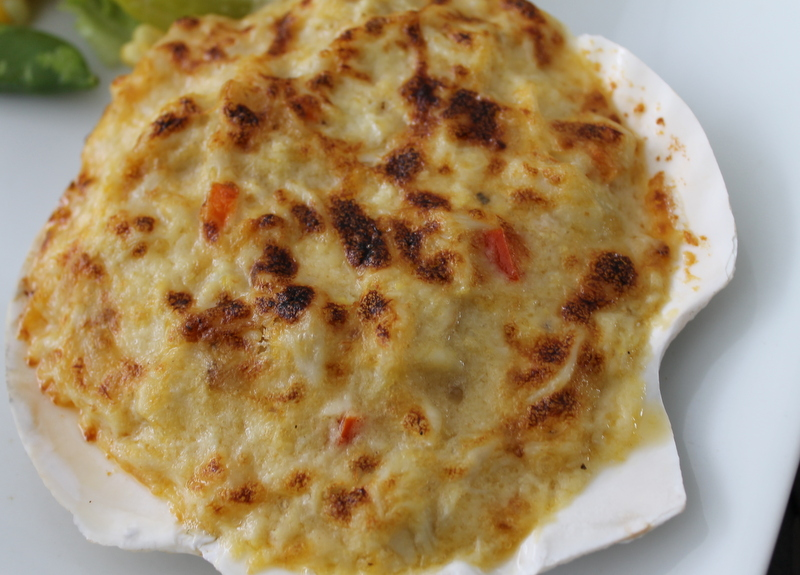 Prep Time: 45 min
Cook Time: 15 min
Number of Servings: 8
Brief Description
Served baked in large scalloped shells. Yummy!
Number of Servings:
Only quantities of ingredients are changed; recipe Directions below will not reflect those changes.
Ingredients:
1 pounds - Snow Crab Meat, picked over for shells
1 - Egg
1/2 cups - Bread Crumbs
2 tablespoons - Butter, softened
2 tablespoons - Heavy Cream
2 teaspoons - Worcestershire Sauce
1 cups - Kraft Mayonaise
- Salt, To Taste
Topping:
- Paprika
- Bread, finely torn into cubes
- Butter
Other:
8 - 2.5 oz. Scallop Shells, (Can also use small 2.5-oz individual casserole dishes)
Directions:
Preheat the oven to 350 degrees.
In a large bowl combine the breadcrumbs, butter, cream, egg, Worcestershire, salt and pepper, and 1/2 cup of the mayonnaise. Mix well. Gently fold in the crabmeat and form the mixture into 8 parts. Avoid over-mixing.
Lay the scallop shells on a sheet pan. Coat each shell with a mound of crabmeat, being careful not to over pack. Spread the remaining 1/2 cup of mayonnaise over the crab mounds until it is completely covered. Sprinkle generously with paprika. Cover with buttered bread crumbs. Bake for 15 minutes, or until the tops are golden brown. Serve immediately.
Brief Description
Served baked in large scalloped shells. Yummy!
Print Recipe