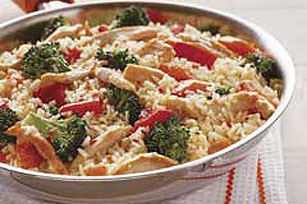 Prep Time: 5 min
Cook Time: 20 min
Number of Servings: 4
Brief Description
HUGE HIT!!
Number of Servings:
Only quantities of ingredients are changed; recipe Directions below will not reflect those changes.
Ingredients:
1 tablespoons - oil
1 pounds - boneless skinless chicken breasts, cut into strips
3 cups - cut-up mixed fresh vegetables, (broccoli, carrots and red peppers)
14 1/2 - chicken broth
2 cups - instant white rice, uncooked
1/4 cups - KRAFT Zesty Italian Dressing
Directions:
HEAT oil in large skillet on medium heat. Add chicken; cook and stir until lightly browned, stirring occasionally.
ADD vegetables; cook and stir 3 to 5 min. or until crisp-tender. Stir in broth. Bring to boil.
STIR in rice and dressing; cover. Reduce heat to low. Cook 5 min. or until liquid is absorbed and chicken is cooked through.
Brief Description
HUGE HIT!!
Notes
CHEESY ITALIAN CHICKEN & RICE WITH SQUASH Use zucchini, yellow squash and red peppers for cut-up fresh vegetables. Prepare and cook as directed. Sprinkle with 1 cup KRAFT Shredded Italian* Mozzarella-Parmesan Cheese Blend; cover. Cook an additional 3 min. or until melted.
SHORTCUT Substitute 2 pkg. (6 oz. each) OSCAR MAYER Deli Fresh Grilled Chicken Breast Strips for the fresh chicken. Cook vegetables in 1 Tbsp. oil until crisp-tender. Add chicken breast strips, broth and water; continue as directed.
MAKE IT EASY Substitute 2 cups frozen vegetables for the fresh vegetables. Add with chicken broth and continue as directed.
Print Recipe