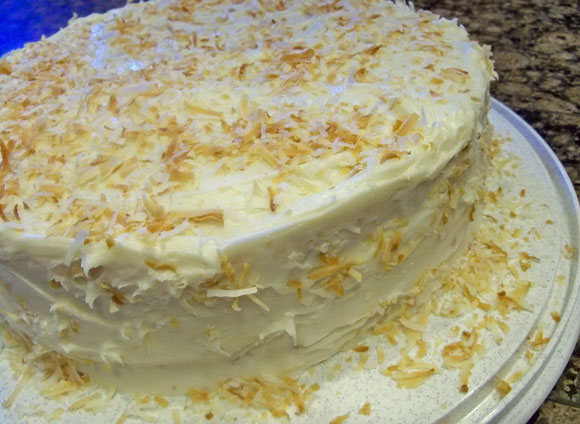 Prep Time: 10 min
Cook Time: 30 min
Number of Servings: 12
Brief Description
A delicious coconut flavored cake!
Number of Servings:
Only quantities of ingredients are changed; recipe Directions below will not reflect those changes.
Ingredients:
2 cups - Sugar
1 sticks - Butter
1/2 cups - Shortening
2 cups - Flour
1 teaspoons - baking soda
1 cups - Buttermilk
1 teaspoons - vanilla
5 - Eggs, separated
1 cups - Chopped Pecans
2 cups - Coconut
Frosting
8 ounces - Cream Cheese
1 sticks - Butter
1 teaspoons - Vanilla
1 boxes - Powdered Sugar
- Coconut
Directions:
Mix sugar, butter, and shortening til fluffy. Add buttermilk, vanilla, baking soda and flour and mix well.
Separate eggs, and add egg yolks, one at a time.
In a separate bowl, beat egg whites until stiff. Fold beaten egg whites with pecans and coconut into batter.
Pour into three (greased and floured) round cake pans (9 or 10-inch pans). Bake at 325 F for 25-30 minutes. Let cool in pan on a cooling rack for 30 minutes before removing from pans. Allow to cool completely on cooling rack before frosting.
Frosting:
Mix cream cheese and butter, and vanilla until smooth. Add powdered sugar 1 cup at a time until all is blended well. Refrigerate until ready to frost cake. Frost middles, top, and sides of cake.
In frying pan, toast coconut in a little butter (or toast coconut in oven on baking tray at 425 for 5 minutes or so). Sprinkle toasted coconut on top of cake.
Store cake in fridge until ready to serve.
Brief Description
A delicious coconut flavored cake!
Print Recipe