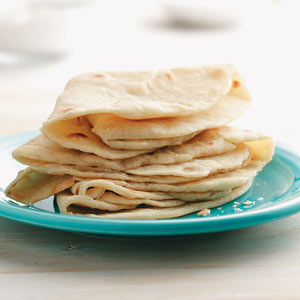 Prep Time: 30 min
Cook Time: 2 min
Number of Servings: 8
Brief Description
Small, easily shaped, bendable tortillas.
Number of Servings:
Only quantities of ingredients are changed; recipe Directions below will not reflect those changes.
Ingredients:
2 cups - flour
1/2 teaspoons - salt
3/4 cups - water
3 tablespoons - olive oil
Directions:
In a large bowl, combine flour and salt. Stir in water and oil. Turn onto a floured surface; knead 10-12 times, adding a little flour or water if needed to achieve a smooth dough. Let rest for 10 minutes.
Divide dough into eight portions. On a lightly floured surface, roll each portion into a 7-in. circle.
In a large nonstick skillet coated with cooking spray, cook tortillas over medium heat for 1 minute on each side or until lightly browned. Keep warm. Yield: 8 tortillas.
Brief Description
Small, easily shaped, bendable tortillas.
Notes
Nutritional Facts
1 tortilla equals 159 calories, 5 g fat (1 g saturated fat), 0 cholesterol, 148 mg sodium, 24 g carbohydrate, 1 g fiber, 3 g protein. Diabetic Exchanges: 1-1/2 starch, 1 fat.
Source
Kristin Van Dyken-- tasteofhome.com
Print Recipe