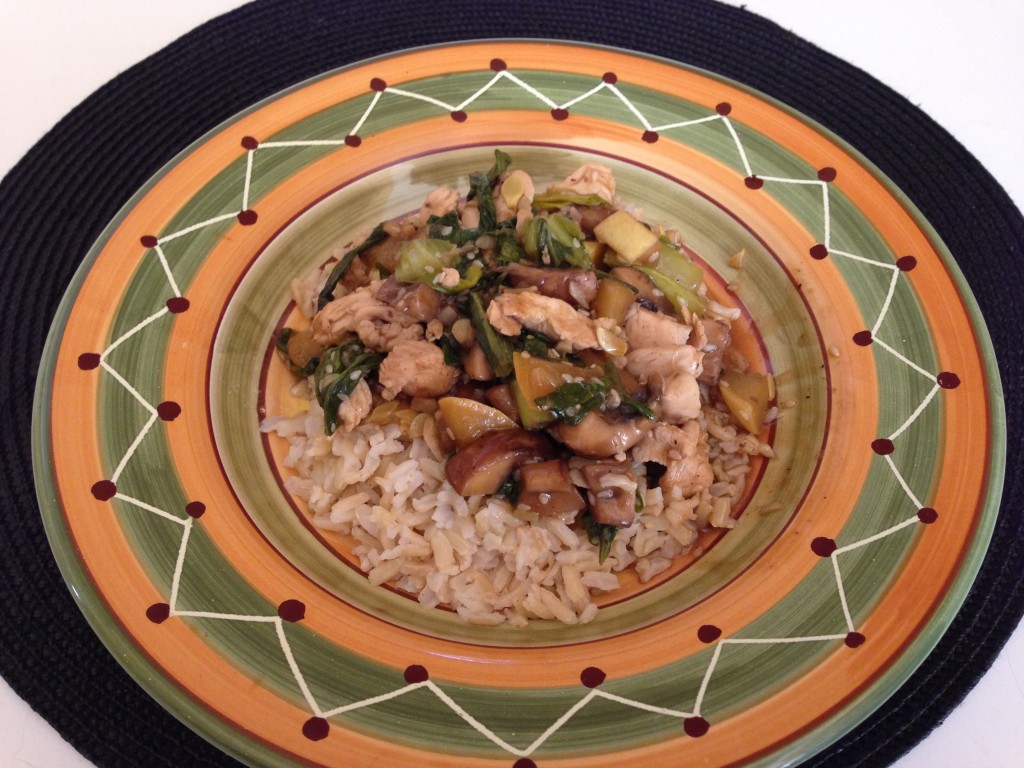 Prep Time: 15 min
Cook Time: 30 min
Number of Servings: 5
Brief Description
All in one dish, complete with meat, rice and tons of veg!
Number of Servings:
Only quantities of ingredients are changed; recipe Directions below will not reflect those changes.
Ingredients:
1 cups - brown, jasmine or basmati rice
2 cups - water
3 tablespoons - reduced sodium soy sauce
2 tablespoons - hoisin sauce
1 tablespoons - rice vinegar
2 teaspoons - cornstarch
1 teaspoons - agave nectar/honey
1/4 teaspoons - black pepper
2 1/2 cups - cremini (baby bella) mushrooms (or buy presliced mushrooms to save on time), quartered
2 - small zucchini/ summer squash, sliced thin into half moons
1 tablespoons - garlic
1 tablespoons - ginger
2 tablespoons - sesame seeds
6 cups - thick sliced bok choy
1 pounds - chicken breast or pork chop
2 tablespoons - expeller-pressed canola oil, divided (1 TBS & 1TBS)
Directions:
Get out the cookware you will need: large sauce pan (for cooking rice), large sauté pan or wok, two cutting boards, knife, large serving bowl.
Get out all of your ingredients and get them out on the counter in front of you.
Start by cooking the rice: Add 1 cup rice and 2 cups water to the sauce pan. (Pre-boil the water in a kettle to speed things up). Once boiling, reduce heat to low, cover and cook rice for 30-40minutes, until all water is absorbed. Remove from heat and allow to sit undisturbed for 5 minutes.
Meanwhile, in a small bowl, stir together soy sauce, Hoisin sauce, rice vinegar, cornstarch, agave nectar/honey and pepper.
Using a large cutting board, chop mushrooms, zucchini, garlic, ginger, bok choy. (I like to chop the mushrooms, zucchini into bite size pieces like you would get at a Chinese restaurant. Click here for a 30 second video and learn how to chop bok choy http://www.youtube.com/watch?v=ag31eT8jnM8
(Keep everything on your cutting board to toss into stir-fry later.)
Using other cutting board, cut chicken breasts in half through center, forming two thin pieces from each breast. Then cut chicken into bite size pieces.
Heat large sauté pan or wok over medium high heat, add 1 TBS oil. When oil is shimmering, add chicken, cook undisturbed for two minutes; then stir fry for 2 minutes until cooked through. Remove chicken from pan. (I flip my cutting board over and set the chicken on the clean side.)
Add another 1 TBS oil to pan and turn heat down to medium.
Once oil is shimmering, add mushrooms and zucchini, sauté for 3 minutes.
Add garlic, ginger and 2 TBS sesame seeds. cook for 30 seconds until fragrant.
Add bok choy and cook for 3 minutes
Turn heat back up to medium high, add cooked chicken and sauce to the veg and cook for 2 minutes, until sauce thickens up.
Scoop rice into the serving bowl and top with your stir fry. Sit back, relax and enjoy!
Brief Description
All in one dish, complete with meat, rice and tons of veg!
Main Ingredient:
Chicken, Bok Choy, veg
Print Recipe