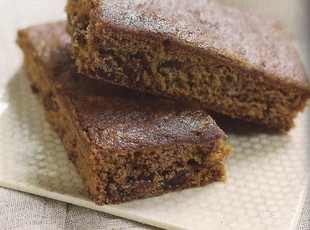 Prep Time: 15 min
Cook Time: 20 min
Number of Servings: 12
Brief Description
Kinda like a brownie, but molasses based - A New England Classic
Number of Servings:
Only quantities of ingredients are changed; recipe Directions below will not reflect those changes.
Ingredients:
1 cups - Sugar
1/2 cups - Shortening
1/2 cups - Margarine/Butter
1/2 teaspoons - Cinnamon
1/2 teaspoons - Nutmeg
1/2 teaspoons - Ginger
1/2 teaspoons - Cloves
1/2 teaspoons - Salt
1 teaspoons - Baking Soda
3 cups - AP Flour
1/2 cups - Molasses
1 cups - Raisins
1 - Egg, Beaten
- Turbinado Sugar
Directions:
Preheat oven to 350°F.
In a large bowl, beat together the sugar, shortening and margarine till smooth. Beat in the spices, salt and baking soda.
Slowly stir in the flour, then add the molasses and beat well again. Stir in the raisins last.
I used a KitchenAid with paddle attachment on slowest speed
Pat hermits into a lightly greased 9" x 13" pan; the mixture will be quite dry.
Brush top with beaten egg and generously sprinkle with Turbinado sugar (natural sugar).
Bake for 25 to 30 minutes in a light-colored aluminum pan; 20 to 25 minutes in a darker pan. In either case, don't over-bake; bars should barely be pulling away from the edge of the pan. Remove from oven and cool completely before cutting.
Brief Description
Kinda like a brownie, but molasses based - A New England Classic
Print Recipe