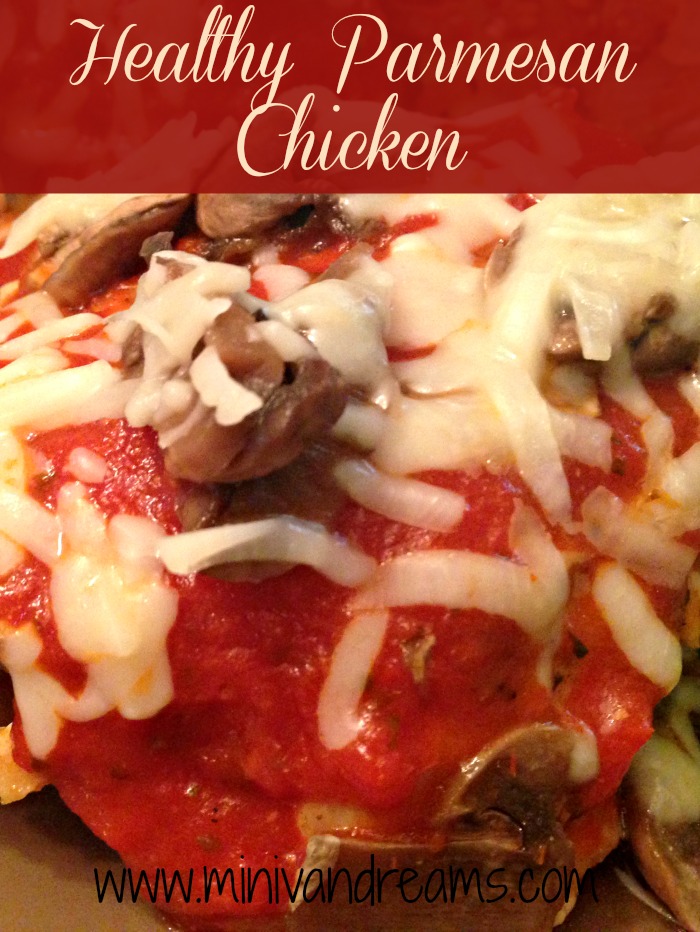 Prep Time: 20 min
Cook Time: 45 min
Number of Servings: 4
Brief Description
A healthy and easy parmesan chicken dish.
Number of Servings:
Only quantities of ingredients are changed; recipe Directions below will not reflect those changes.
Ingredients:
4 - boneless, skinless chicken breasts
8 ounces - sliced fresh mushrooms, cleaned
1 cans - 28 ounce crushed tomatoes
4 ounces - fresh, shredded Parmesan cheese
- Salt, to taste
- Pepper, to taste
2 teaspoons - garlic powder
3 teaspoons - Italian seasoning
2 teaspoons - onion powder
Directions:
Preheat oven to 400 degrees. Prepare baking dish with spray oil.
Place chicken between two pieces of wax paper or saran wrap, pound with a mallet until about ½ inch thick.
Bake chicken in preheated oven, seasoned with salt and pepper, until juices run clear - approximately 30-40 minutes.
Meanwhile, saute sliced mushrooms in a non-stick skillet until tender.
When chicken is done, remove from oven. Top chicken breasts with crushed tomatoes. Season with garlic powder, Italian seasoning, and onion powder.
Top each piece of chicken with 1 ounce of fresh Parmesan and some of the mushrooms.
Return to oven for 4-5 minutes to allow cheese to melt.
Brief Description
A healthy and easy parmesan chicken dish.
Notes
Nutrition calculated as guidance only. Please recalculate based on your ingredients.
Serving size: 1 breast Calories: 270 Fat: 9 Carbohydrates: 14 Fiber: 4 Protein: 33 Cholesterol: 75
Source
http://www.minivandreams.com/healthy-parmesan-chicken/
Print Recipe