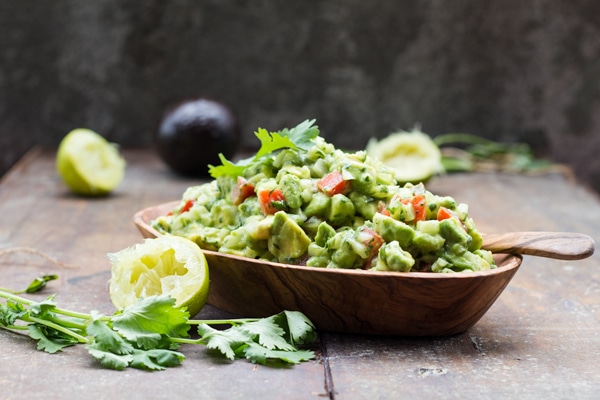 Prep Time: 15 min
Number of Servings: 4
Brief Description
 1 small white onion
 2 avocados (ripe but firm)
 1 tomato
 1 hand full cilantro leaves
 1-2 jalapeños
 2 limes
 salt
Number of Servings:
Only quantities of ingredients are changed; recipe Directions below will not reflect those changes.
Directions:
1. Peel and very finely chop white onion and soak in cold water while preparing the rest. (Use a colander and submerge in a bowl with water and add onion, in order to easily fish it all out afterwards. This is to remove the bitterness of the onion).
2. Wash and destem cilantro. Chop leaves very finely. Add to bowl.
3. Wash tomatoes, deseed and chop into small pieces. Add to bowl.
4. Cut avocados in half, take out stone, peel and then cut into small pieces. Add to bowl.
5. Squeeze lime juice over avocado tomato mix, add drained onion and mix well.
6. Add salt to taste.
7. Wash and deseed jalapeños and chop very finely and serve mixed in or aside depending on if children are eating, too.
Brief Description
 1 small white onion
 2 avocados (ripe but firm)
 1 tomato
 1 hand full cilantro leaves
 1-2 jalapeños
 2 limes
 salt
Print Recipe