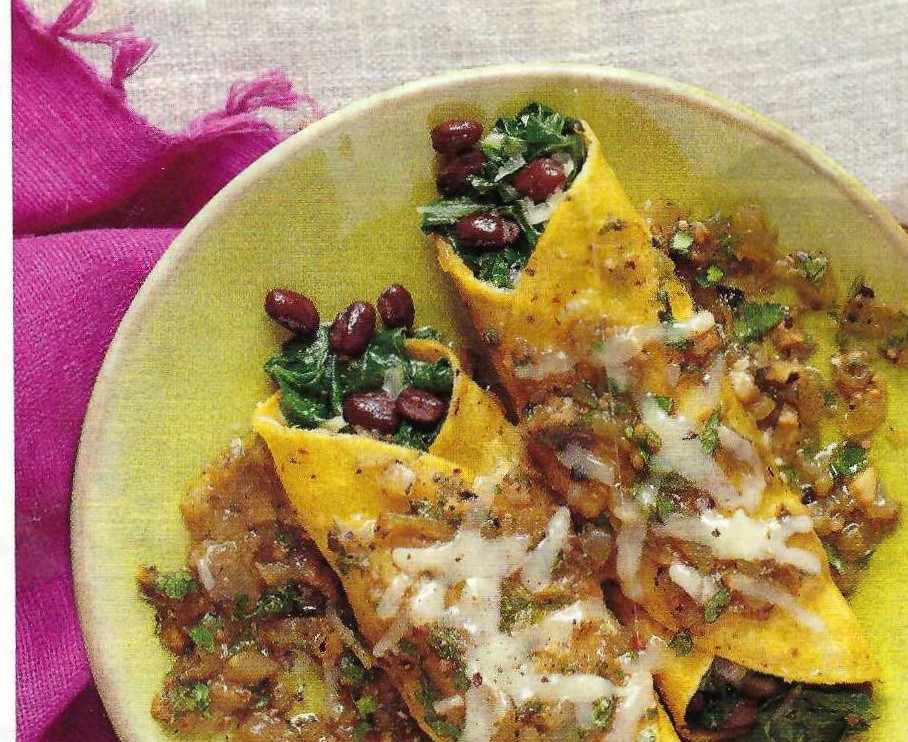 Prep Time: 10 min
Cook Time: 10 min
Number of Servings: 1
Brief Description
go meatless and enjoy our festive Cinco de Mayo-inspired feast
Number of Servings:
Only quantities of ingredients are changed; recipe Directions below will not reflect those changes.
Ingredients:
1 1/2 cups - Fresh Swiss Chard, packed; rinsed and cut into thin strips
2 tablespoons - White onion, chopped
1 cloves - Garlic, crushed through press
1/2 cups - Canned no-salt-added black beans, rinsed and drained
4 tablespoons - Fat-free jalapeno soy cheese, shredded
1 pinchs - Ground Cumin
1 pinchs - Salt
2 - Corn Tortillas
1/3 cups - Fat Free Salsa Verde
Directions:
1. Place chard with water clinging to its leaves in small nonstick skillet and set over medium-high heat. Cook, stirring constantly, until chard wilts and liquid evaporates, about 1 minute. Transfer chard to plate.
2. Spray skillet with nonstick spray and set over medium heat. Add onion and garlic; cook, stirring frequently, until onion is softened, about 2 minutes. Remove skillet from heat, stir in beans, 2 Tbsp soy cheese, cumin, and salt. Lay tortillas on flat surface; top each with half of chard. Divide bean mixture evenly over chard; roll up each tortilla.
3. Bring salsa to simmer in skillet over medium-high heat. Add enchiladas, and spoon salsa over top. Sprinkle evenly with remaining 2 Tbsp soy cheese. Reduce heat and simmer, covered, until filling is hot and cheese melts, about 4 minutes. Let stand 5 minutes before serving.
Brief Description
go meatless and enjoy our festive Cinco de Mayo-inspired feast
Main Ingredient:
Black Beans
Notes
Per serving: 300 cal, 2g total fat, 939mg sod, 53g total carb
Source
Weight Watchers, 5/2011
Print Recipe