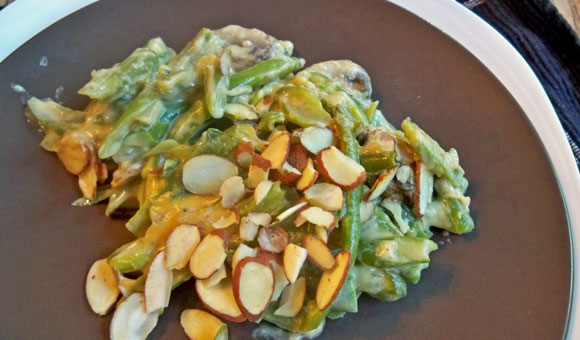 Prep Time: 15 min
Cook Time: 40 min
Number of Servings: 6
Number of Servings:
Only quantities of ingredients are changed; recipe Directions below will not reflect those changes.
Ingredients:
1 pounds - Mushrooms
1 whole - Medium Onion
1/2 cups - Butter
1/4 cups - Flour
1 cups - Milk
1 cups - Light Cream
3/4 pounds - Sharp Cheddar Cheese
1/8 teaspoons - Hot Pepper Sauce
2 teaspoons - Soy Sauce
1/2 teaspoons - Pepper
1 teaspoons - Salt
1 tablespoons - Accent Seasoning
5 ounces - Water Chestnuts
3 packages - Frozen French-style Green Beans
1/2 cups - Toasted,Slivered, Blanched Almonds
Directions:
Saute mushrooms and onions in butter. Add flour; cook until smooth. Turn down heat. Gradually add milk and cream, stirring over low to medium heat until thickened.
Add cheese, hot pepper sauce, soy sauce, pepper, and Accent seasoning. Stir until cheese melts.
Cook green beans in salted water until tender; drain. Mix with mushrooms, sauce, and water chestnuts. Pour into a casserole dish and sprinkle with almonds. Bake 20 minutes at 375 until bubbly.
Main Ingredient:
green beans
Notes
Make a day ahead, and allow 35-40 minutes to heat thoroughly.
Print Recipe