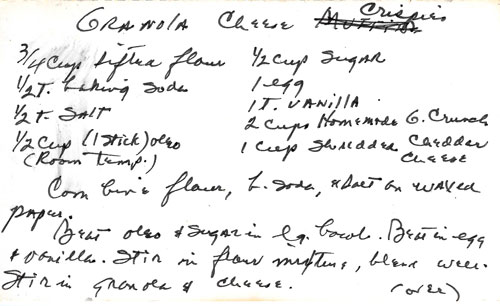 Prep Time: 20 min
Cook Time: 13 min
Number of Servings: 12
Brief Description
Baked cheesy granola crisps.
Number of Servings:
Only quantities of ingredients are changed; recipe Directions below will not reflect those changes.
Ingredients:
3/4 cups - sifted flour
1/2 teaspoons - baking soda
1/2 teaspoons - salt
1/2 cups - oleo, at room temperature
1/2 cups - sugar
1 - egg
1 teaspoons - vanilla
2 cups - homemade granola crunch
1 cups - shredded cheddar cheese
Directions:
Combine flour, baking soda, and salt on waxed paper.
Beat oleo and sugar together in large bowl. Beat in egg and vanilla. Stir in flour mixture, blending well.
Stir in granola and cheese.
Drop by teaspoons 2-1/2 inches apart on greased cookie sheet. Bake at 350 degrees F for 12 to 13 minutes.
Brief Description
Baked cheesy granola crisps.
Main Ingredient:
homemade granola crunch
Print Recipe