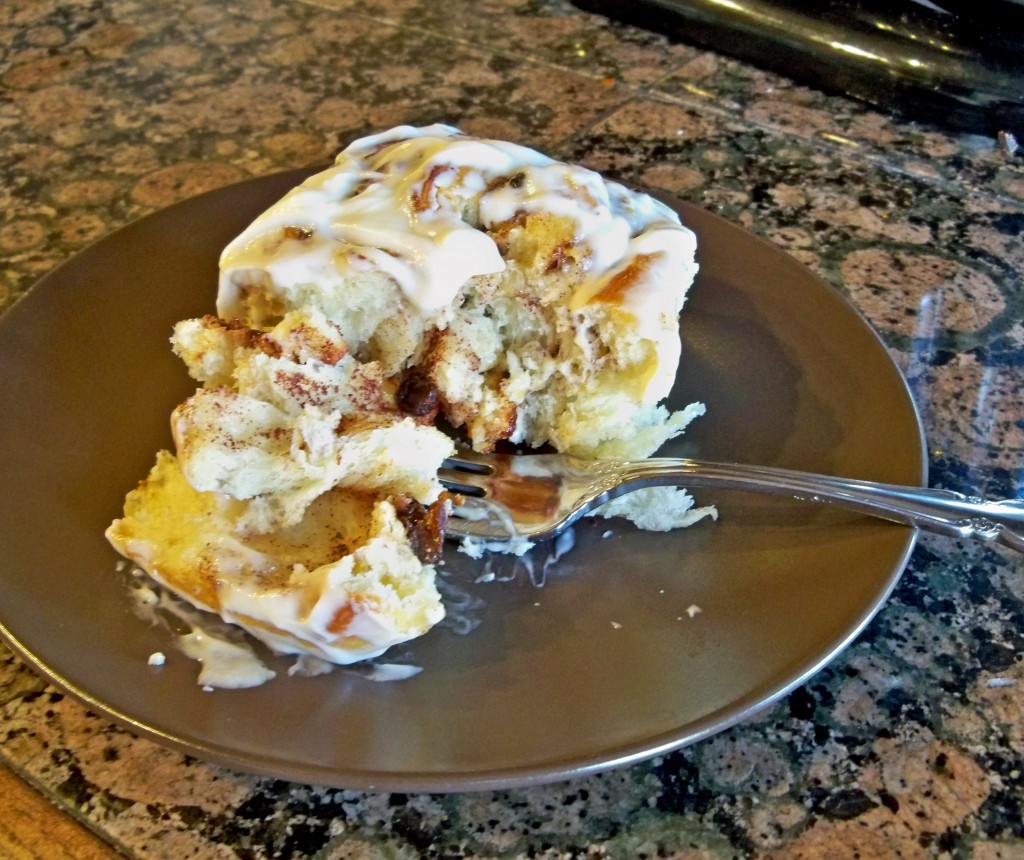 Prep Time: 3 hour(s)
Cook Time: 25 min
Number of Servings: 16
Brief Description
The aroma of these big, puffy rolls baking in the oven will tempt your taste buds.
Number of Servings:
Only quantities of ingredients are changed; recipe Directions below will not reflect those changes.
Ingredients:
Dough
1 packages - active dry yeast
3/4 cups - whole milk
1/4 cups - granulated sugar
4 whole - eggs, large
4 1/2 cups - all-purpose flour
1 1/2 teaspoons - kosher salt
6 tablespoons - unsalted butter, cut in chunks
Filling
4 tablespoons - unsalted butter, cut in chunks
2/3 cups - light brown sugar
2 teaspoons - ground cinnamon
1/2 teaspoons - orange zest
Brushing on rolls before baking
1 whole - egg
1 teaspoons - water
Cream Cheese Frosting
8 ounces-weight - cream cheese
1/4 cups - unsalted butter
2 teaspoons - vanilla extract
1 cups - confectioners' sugar
Directions:
1. To make dough, in the bowl of a mixer dissolve yeast in warm milk and let stand until foamy, about 10 minutes. Add the granulated sugar, eggs, flour and salt. Use the dough hook and knead on low speed, adding a little more flour if needed, until the ingredients come together. Toss in the butter and continue to knead until dough is smooth, about 7 minutes. Form dough into a ball, put in an oiled bowl and cover with plastic wrap. Let rise at room temperature until double, about 1-1/2 to 2 hours.
2. Butter a 9x13-inch baking pan. Punch dough down and turn out onto lightly floured working surface. Cut dough in half. Roll out one half into a rectangle about 9 by 14 inches. Spread with half the butter, then sprinkle evenly with half of each of brown sugar, cinnamon, orange zest, and raisins or pecans. Starting at the long side closer to you, roll the rectangle away from you, forming a log. Cut the log crosswise into 8 equal slices. Arrange slices, cut side down, in half of prepared pan. Repeat with the remaining dough and filling ingredients and arrange slices in the other half of the pan. Cover pan loosely with plastic wrap and let stand in a warm, draft-free spot until puffy, about 1 hour, or refrigerate overnight, then let stand at room temperature for 30 to 60 minutes before baking.
3. Position oven rack in the middle of the oven and heat to 400 F. Brush buns lightly with beaten egg (mixed with teaspoon of water). Bake until rolls are golden brown and a toothpick inserted into center of a roll comes out clean, about 20 minutes. (While rolls are baking, mix up frosting by beating together cream cheese, butter, and vanilla extract; then gradually add confectioners' sugar and mix thoroughly). Let rolls cool slightly in pan on a wire rack, then spread with frosting while they are still warm. Serve immediately.
Brief Description
The aroma of these big, puffy rolls baking in the oven will tempt your taste buds.
Source
Ladies' Home Journal
Print Recipe