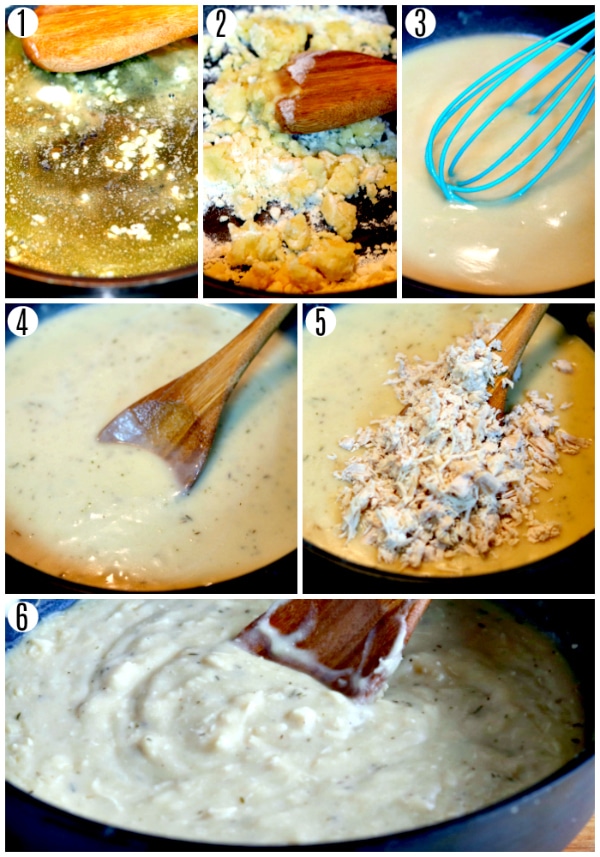 Prep Time: 10 min
Cook Time: 10 min
Number of Servings: 4
Brief Description
Homemade cream of chicken soup with gluten-free and dairy-free options.
Number of Servings:
Only quantities of ingredients are changed; recipe Directions below will not reflect those changes.
Ingredients:
2 tablespoons - butter (for dairy-free use Smart Balance)
1/2 teaspoons - minced garlic
1 teaspoons - onion powder
1/2 teaspoons - salt
1 teaspoons - thyme
- pinch of nutmeg , optional, but very good
6 tablespoons - gluten-free all-purpose flour (like Pillsbury gluten-free)
2 cups - gluten-free chicken broth
2 cups - chopped cooked chicken
1 cups - milk (for dairy-free use almond, cashew or coconut milk)
Directions:
In a large saucepan, heat butter over medium-high heat; sauté minced garlic in butter until tender.
Sprinkle flour, onion powder and thyme over the sauteed garlic.
Stir in chicken broth, salt, pepper, and nutmeg (if using). Stir mixture until flour is incorporated. Bring the soup to a boil and stir it until thickened (about 2 minutes).
Add the chopped cooked chicken to the soup and stir to combine. Reduce heat to low and stir in the milk. Simmer, uncovered for about 10-15 minutes. Be sure to stir it occasionally and remove the soup from heat as soon as it becomes as thick as you desire.
Store in an air-tight container for later use or you can freeze it.
If freezing, be sure to let the soup cool completely and leave about an inch of space between the soup and the container's lid when storing. If you are planning on freezing the soup (not leftovers) don't add the dairy or non-dairy milk when making it; simply add it in when you are reheating the soup.
Brief Description
Homemade cream of chicken soup with gluten-free and dairy-free options.
Notes
Recipe yields about 2 cups; I usually use 1 cup of this soup in recipes in place of a can.
Source
Mama Knows Gluten Free
Print Recipe