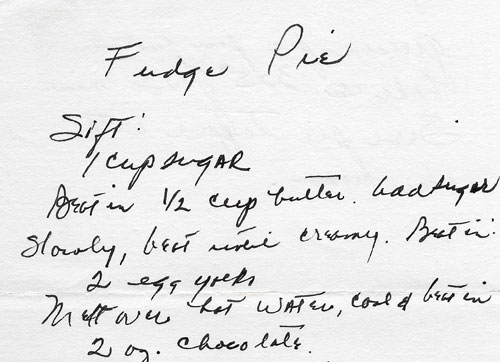 Prep Time: 30 min
Cook Time: 30 min
Number of Servings: 8
Brief Description
Baked chocolate crustless pie.
Number of Servings:
Only quantities of ingredients are changed; recipe Directions below will not reflect those changes.
Ingredients:
1 cups - sugar
1/2 cups - butter
2 - egg yolks
2 ounces - chocolate
1/3 cups - flour
1 teaspoons - vanilla
2 - egg whites
1/8 teaspoons - salt
- ice cream, optional, for serving with
Directions:
Sift the sugar. Beat the butter and add in the sugar, slowly beating until creamy. Beat in the egg yolks.
Over hot water, melt the chocolate, then cool and beat in to other mixture.
Sift flour and beat into mixture. Add vanilla and salt.
Beat egg whites until stiff. Fold into batter.
Pour all into greased pie pan and bake at 325 degrees F for 30 minutes.
Serve pie topped with ice cream.
Brief Description
Baked chocolate crustless pie.
Main Ingredient:
chocolate
Print Recipe