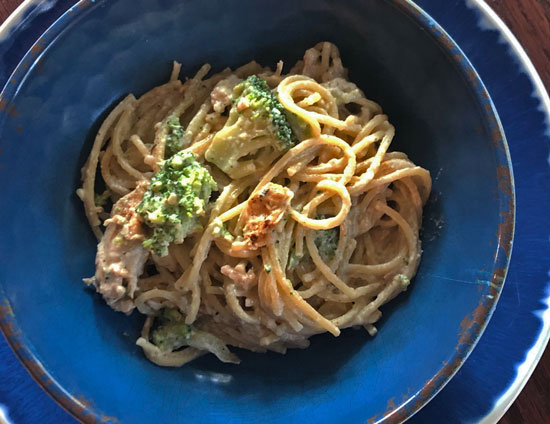 Prep Time: 10 min
Cook Time: 25 min
Number of Servings: 4
Brief Description
Fettuccine or spaghetti noodles with alfredo sauce, chicken and broccoli.
Number of Servings:
Only quantities of ingredients are changed; recipe Directions below will not reflect those changes.
Ingredients:
1/2 pounds - fettuccine or spaghetti noodles
1 cups - frozen broccoli florets, optional
6 - chicken tenderloins
- fajita seasoning and dried thyme
4 tablespoons - butter
1 cloves - garlic, minced
2 cups - half-and-half OR heavy cream
2 cups - parmesan cheese
- black pepper, to taste
1/4 cups - parsley, chopped, optional
Directions:
Bring salted water to a boil in a medium saucepan.
Meanwhile, flatten chicken pieces with mallet (cover chicken pieces with waxed paper or saran wrap to keep juices from splattering); season with fajita seasoning and thyme.
Melt a tablespoon of butter with a tablespoon of olive oil in a large skillet, and when heated, place chicken pieces in skillet over medium-high heat; cover and cook about 4 minutes 'til one side is browned, then turn and cook on other side 4-5 minutes.
Meanwhile, when water has come to a boil, place noodles and broccoli (if using) into boiling water, and cook for 10 minutes or until noodles are al dente.
In a small saucepan, heat butter and saute garlic for 2 minutes; lower heat slightly and stir in the cream or half-and-half. Heat and stir for 5-8 minutes until thickened and heated through; stir in Parmesan cheese until combined.
Turn heat to low in skillet with chicken; remove chicken pieces and dice, then return to skillet. Drain pasta and broccoli, then pour into skillet with chicken. Stir in the sauce, and add pepper to taste.
Garnish with chopped parsley, if desired.
Brief Description
Fettuccine or spaghetti noodles with alfredo sauce, chicken and broccoli.
Main Ingredient:
fettuccine
Print Recipe