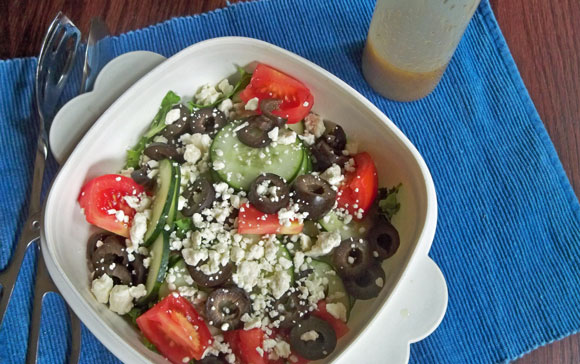 Prep Time: 20 min
Number of Servings: 12
Brief Description
The dressing for this is perfectly seasoned.
Number of Servings:
Only quantities of ingredients are changed; recipe Directions below will not reflect those changes.
Ingredients:
Salad Ingredients
1 heads - medium head lettuce
2 - medium cucumbers
3 - small tomatoes
2 cans - (2.25 oz each) sliced ripe black olives
8 - crumbled feta cheese
Dressing
1/4 cups - olive oil
3 tablespoons - red wine vinegar
1 teaspoons - dried oregano
1/2 teaspoons - salt
1/8 teaspoons - pepper
Directions:
Combine dressing ingredients in a jar. Place lid on jar and shake until mixed. Best if made a half hour or so before serving; place in refrigerator and allow flavors to meld.
Combine salad ingredients in a bowl. Pour dressing over & toss before serving.
Brief Description
The dressing for this is perfectly seasoned.
Main Ingredient:
Vegetables
Print Recipe